The free Rocky Mountain Arsenal Wildlife Refuge in Commerce City, Colorado (near Denver) is a beautiful and pristine National Wildlife Refuge, representing an impressive cleanup and conversion of a former weapons and rocket fuel processing facility. The views of the mountains from this perfect spot on the plains are quite impressive.
This October festival has become a Denver tradition.
Colorado is known for it's goofy festivals and the Great Fruitcake Toss is certainly one of the headliners. This Manitou Springs tradition is held every year after the holidays in an effort to dispose of certain unwanted confections you may have acquired.
Some people prefer to launch their cakes by hand but many choose to build elaborate contraptions to give their fruitcakes the send off they deserve. There are various cake launching categories as well as competitions for the best and prettiest fruit cakes.
When:
The 2014 Great Fruitcake Toss festival has been cancelled. Hopefully it will be back in 2015.
Where:
In Manitou Springs at the Manitou Springs High School track.
401 El Monte Place
Manitou Springs, CO 80829.
The South Golden Road area around the Sonic drive-in is home to a very large monthly car show called the Golden Super Cruise. They typically hold this event on the first Saturday of every month from May through October. One of the best things to do in Golden on a Saturday evening.
The Boulder Creek Festival takes place every Memorial Day weekend in Boulder along Boulder Creek, and features great free music, dancing, rides for the kids, and other entertainment. This is one of the best festivals of the year, and a great thing to do on Memorial Day weekend.
On summer Thursdays and Fridays the laid back atmosphere of Snowmass Colorado comes alive with their free Snowmass Village Summer Concerts. The music, set up on a Snowmass ski run stage near the upper village, is loud and wild.
When:
Summer Thursdays (and sometimes Fridays) from 6:15 to 8:30pm.
Where:
Snowmass upper village.
Schedule:
The 2013 Snowmass Village Free Summer Concert schedule is as follows:

June 20: Freddy Jones
June 27: The Dunwells
Friday July 5: CJ Chenier
July 11: The Revivalists
July 18: Mountain Standard Time
July 25: J.Boog
August 1: Tab Benoit
August 8: Nigel Hall
August 15: Robert Walters

More Info from the Aspen Snowmass web site:
On the first weekend of June each year, Colorado waives fishing license requirements. This is a great chance to grab your gear out of storage and take the family to a nearby lake or stream for some serious trout fishing! 
Deprecated
: Methods with the same name as their class will not be constructors in a future version of PHP; Zebra_Image has a deprecated constructor in
/home/ec2-user/www/public_html/freeindenver/components/com_jem/classes/Zebra_Image.php
on line
46
If you're looking for free things to do in Aspen, Colorado, good luck! Just kidding...
It turns out that Aspen has a free art museum and hiking / biking trail system that are both amazing Aspen attractions.
The museum is always free, but check their web site to see what is currently on display. If you want a more scenic experience, you can get to the museum by walking or biking the trail that goes through the neighborhoods and begins behind the visitor center at Rio Grande Ball Fields. If you walk the trail, make sure you visit the free and amazingly beautiful John Denver Sanctuary!
Location:
590 North Mill Street
Aspen, CO 81611 Map and Schedule
Aspen Art Museum Web Site and Schedule: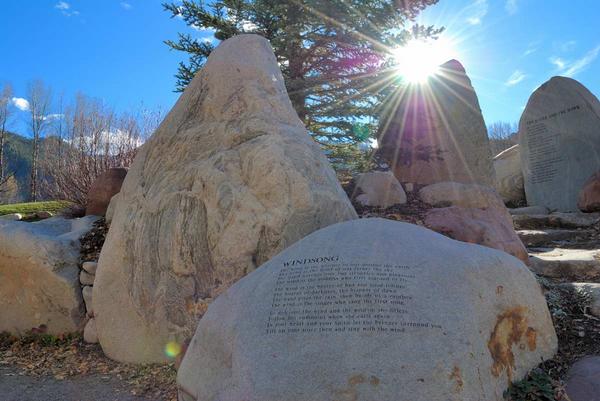 Willie G's is a great place to have a happy hour snack and a cocktail in the middle of the 16th Street Mall in downtown Denver. The street facing patio allows diners to relax with a drink and watch Denver tourists and businesspeople pass by.
The top Colorado attraction for train enthusiasts also has free days! A few free days are held each year at the Colorado Railroad Museum in Golden. This museum features a diverse collection of trains, some restored and some not, located outdoors. You can climb aboard some of them. There are also indoor museum exhibits and a huge indoor miniature train layout that is operated by quarters.
For about 6 weeks each year in January and February, Ruby Hill Park in Denver features a free ski and snowboard park known as Ruby Hill Rail Yard.
The United States Air Force Academy at Colorado Springs has a unique visitor center and chapel area that is free and open to the public. Visitors can learn a wealth of information about the academy and it's history as well as view the planes on display. The Chapel is absolutely beautiful and due to it's unique architecture it's probably the most photographed building in all of Colorado.
For 2013, Monarch Mountain is offering a free lift ticket in April if you purchase a $10 GEMS card.
Get the details and order your GEMS card here:
Location:
Monarch Mountain is located in South Central Colorado near Salida. Map
Learn more about Monarch Mountain Ski and Snowboard Area at their web site:
The United States Olympic Training Center in Colorado Springs is the home of a huge Olympic visitor's center, the U.S. Olympic Hall of Fame, and serves as the training center for many of our country's top athletes. A free tour of the Olympic Complex is one of the best things to do in Colorado Springs.