The National Park Service offers free entrance to all National Parks a few times each year. This is a great way to explore our beautiful Colorado park lands.
The free Colorado Mineral and Fossil Spring Show brings gem and fossil dealers from across the U.S. to the Denver area to showcase their huge selection of amazing finds.
Up to 85 Retail / Wholesale Gem, Mineral, Fossil, Jewelry Dealers From All Over The USA
When:
April 14-16, 2017
Location:
The Crowne Plaza Dia
15500 EAST 40TH AVENUE, DENVER, CO 80239
http://www.rockygems.com/colorado-mineral--fossil-spring-show-2017.html
The Denver Center for the Performing Arts offers a limited number of $10 tickets, every Tuesday morning, for shows coming later in the week.
On the first weekend of June each year, Colorado waives fishing license requirements. This is a great chance to grab your gear out of storage and take the family to a nearby lake or stream for some serious trout fishing! 
Brunswick Bowling Centers are offering free bowling for students during the summer of 2012. Kids or their parents (depending on age) sign up for Brunswick's Bonus Zone to get free bowling.
There are a few Brunswick Bowling Centers along the front range that offer the free bowling for kids promotion.
Find a bowling center:
Bonus Zone Sign up:
2014's Frozen Dead Guy Days will be celebrated March 7 through March 9. The highlight of the event is really the Polar Plunge, where anyone can sign up to take a dive in a freezing pond. Some people do it for the thrill, some do it to raise money for charities, and some are just plain nuts. There is also a coffin race, hearse parade, music, and many other bizarre activities (frozen turkey bowling???). This is one of the most popular things to do in March for front range residents with cabin fever.
This is probably the wierdest festival I've ever heard of, even wierder than Manitou's fruitcake toss or Leadville's ski Joring. Come and learn about the history of the frozen dead guy and observe some of Nederland's finest citizens enjoying a day in the mountains.
Traffic can become a real problem for the small town so plan accordingly. Parking is available on the side streets but getting to them can take a while.
When:
March 7 - 9, 2014
Where:
The event is held in Nederland, Colorado (at the top of Boulder Canyon west of Boulder).
As more people down in town learn about this festival every year, it has grown from a small event for members of the mountain community to a really crowded winter festival for everyone in the front range. If the crowds don't bother you, come check it out:
Frozen Dead Guy Days Nederland Chamber web site:
If you want to learn more before you commit to a trip to the mountains, read all about the frozen dead guy here:
Frozen Dead Guy Days Wiki:
The Evergreen Chamber Orchestra will have a free performance on Saturday Feb. 2, 2013, 7pm at Evergreen High School. Talented students from area schools will participate with the Evergreen Orchestra in this free concert.
The Evergreen Chamber Orchestra Web Site:
http://www.evergreenchamberorch.org/
Deprecated
: Methods with the same name as their class will not be constructors in a future version of PHP; Zebra_Image has a deprecated constructor in
/home/ec2-user/www/public_html/freeindenver/components/com_jem/classes/Zebra_Image.php
on line
46
Denver Mint Tours are closed for construction through February 27, 2014.
If you ever wanted to know where that change in your pocket comes from, the free Denver Mint Tours are the place to find out! Tours are free of charge Monday through Thursday at the United States Mint in downtown Denver. Reservations must be made in advance through the United States Mint Tour Reservation System
The Denver Mint building is highly secure, so you will need to pass through a security screening before your tour begins. Many common items are not permitted on the tour, such as purses, check their web site for a detailed list of prohibited items. The tour itself is very informative and interesting, discussing not only how new coins are made but also America's coin making history.
When:
Year-round, Monday - Thursday.
Reservations are required.
Be at the tour entrance 30 minutes prior to your tour time.
Location:
320 West Colfax Avenue
It's just off the southern end of the 16th Street Mall near Civic Center Park.
Visit their web site for tour details and reservations:
For 2014, Shell gas stations are offering 2 for 1 vouchers at several ski areas with a 10 gallon gas fill up. This means that if you buy at least 10 gallons of gas, you get a coupon good for a free lift ticket if you purchase one full price adult lift ticket. The deal is good at several ski areas.
Unfortunately, full price adult lift tickets have become so expensive that this isn't much of a "deal". But if you just want to ski one day at a participating resort this year, this will get you on the slopes for less than full price.
In Colorado, 2014's participating resorts are:
Copper Mountain
Crested Butte
Loveland
Monarch
Powderhorn
The SkiFreeDeals.com web site has a full list of participating Shell stations and ski resorts.
Learn more at skifreedeals.Com:
If you're looking for free things to do in Aspen, Colorado, good luck! Just kidding...
It turns out that Aspen has a free art museum and hiking / biking trail system that are both amazing Aspen attractions.
The museum is always free, but check their web site to see what is currently on display. If you want a more scenic experience, you can get to the museum by walking or biking the trail that goes through the neighborhoods and begins behind the visitor center at Rio Grande Ball Fields. If you walk the trail, make sure you visit the free and amazingly beautiful John Denver Sanctuary!
Location:
590 North Mill Street
Aspen, CO 81611 Map and Schedule
Aspen Art Museum Web Site and Schedule: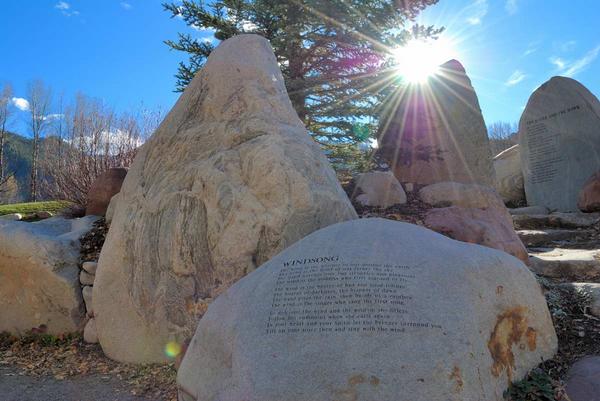 The Poudre Landmarks Foundation has some of the best Fort Collins attractions for history buffs. Their historic Avery House in Fort Collins offers free tours on Saturdays and Sundays from 1pm to 4pm. The tour guides provide a wealth of information about the city's early days, and what life was like in the front range in the late 1800's. This is one of the great historical things to do in Colorado, as Fort Collins has a rich and colorful early history in the settling of Colorado.
When:
Year-round Saturday and Sunday
1pm to 4pm
For 2014, the Poudre Landmarks web site is incomplete and it is unknown whether Avery House tours are still taking place. Hopefully they will release an updated schedule soon. Call them to check on the latest situation: 970-221-0533
Where:
328 West Mountain Avenue
Fort Collins, CO 80524
Avery House Web Site:
Every year some of the best museums in the USA take part in the Smithsonian Museum Day. 
Winter Trails Day is a nationwide event, with free or discounted access to many cross country (nordic) ski trails and snowshoe trails, free tours, free rentals, and that sort of thing.
The National Center for Atmospheric Research (NCAR) has created a beautiful nature preserve on their property on Table Mesa Drive in Boulder, at the base of the Flatirons.