2014's Frozen Dead Guy Days will be celebrated March 7 through March 9. The highlight of the event is really the Polar Plunge, where anyone can sign up to take a dive in a freezing pond. Some people do it for the thrill, some do it to raise money for charities, and some are just plain nuts. There is also a coffin race, hearse parade, music, and many other bizarre activities (frozen turkey bowling???). This is one of the most popular things to do in March for front range residents with cabin fever.
This is probably the wierdest festival I've ever heard of, even wierder than Manitou's fruitcake toss or Leadville's ski Joring. Come and learn about the history of the frozen dead guy and observe some of Nederland's finest citizens enjoying a day in the mountains.
Traffic can become a real problem for the small town so plan accordingly. Parking is available on the side streets but getting to them can take a while.
When:
March 7 - 9, 2014
Where:
The event is held in Nederland, Colorado (at the top of Boulder Canyon west of Boulder).
As more people down in town learn about this festival every year, it has grown from a small event for members of the mountain community to a really crowded winter festival for everyone in the front range. If the crowds don't bother you, come check it out:
Frozen Dead Guy Days Nederland Chamber web site:
If you want to learn more before you commit to a trip to the mountains, read all about the frozen dead guy here:
Frozen Dead Guy Days Wiki:
Golden, Colorado celebrates Buffalo Bills birthday in grand style every year at Rock Rest Lodge. This free festival features re-enactments of the wild west days as well as great music, food, and western authors.
Each year over Labor Day Weekend, Copper Mountain Ski Resort hosts the free Copper Country festival, with two full days of country, blues, and folk music from top name performers.
Frisco's annual Wassail Days celebrate the coming holiday season in typical Frisco style with a chili cookoff, free winter activities, and free cups of an Old English cider and spice mixture called Wassail. Local shops compete for your vote as the best Wassail in Frisco.
For 2012, Wassail Days takes place December 8th through 16th.
Some highlights of this week long event:
December 8th: Santa Dash for Cash annual run.
Tree lighting.
Chili Cook-off.
December 12th: Wassail night at Frisco's history park.
December 13th: Free Tubing at Frisco Adventure Park.
Free sleigh rides at Frisco Adventure Park.
Free Nordic skiing at Frisco Nordic Center! (I'll be at this one!)
Advance reservations are required for many of the events.
See the Wassail Days web site for reservation info:
The National Park Service offers free entrance to all National Parks a few times each year. This is a great way to explore our beautiful Colorado park lands.
Looking for a popular Denver attraction for the kids? The free Denver Movies in the Park are one of the top things to do in Denver with the family, and not to be missed if you're in Denver with kids.
The "Golden Community Rodeo" is a weekly kayak competition in downtown Golden along Clear Creek at the Golden kayak park. You can sit or stand along the creek and watch the competition. It's pretty amazing what these kayakers can do, and definitely worth taking some time to watch. Can you think of a better thing to do on a warm spring Wednesday?
Competitors are arranged according to class. This year the classes are:
Juniors
Masters
Men: Sport, Intermediate, and Expert
Women: Sport, Intermediate, and Expert
Deprecated
: Methods with the same name as their class will not be constructors in a future version of PHP; Zebra_Image has a deprecated constructor in
/home/ec2-user/www/public_html/freeindenver/components/com_jem/classes/Zebra_Image.php
on line
46
If you're looking for free things to do in Aspen, Colorado, good luck! Just kidding...
It turns out that Aspen has a free art museum and hiking / biking trail system that are both amazing Aspen attractions.
The museum is always free, but check their web site to see what is currently on display. If you want a more scenic experience, you can get to the museum by walking or biking the trail that goes through the neighborhoods and begins behind the visitor center at Rio Grande Ball Fields. If you walk the trail, make sure you visit the free and amazingly beautiful John Denver Sanctuary!
Location:
590 North Mill Street
Aspen, CO 81611 Map and Schedule
Aspen Art Museum Web Site and Schedule: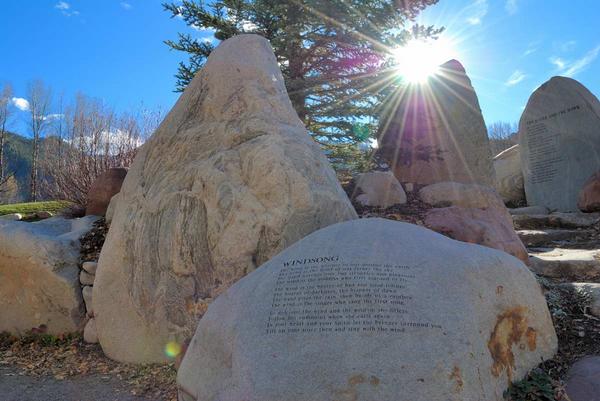 Table Mountain Inn in Golden is one of my favorite happy hour restaurants to visit when I'm hungry for traditional pub fare at a decent price. Unlike most Denver happy hours, this menu offers meal size food options in addition to their drink specials.
For vacationers to Aspen, the Aspen Nordic center provides probably the ultimate cross country ski and snowshoe experience in Colorado, and it is entirely free!
Keystone Ski Resort offers free summer scenic chair lift rides every Friday from 3-7pm, starting June 14 and continuing until summer activities close at the end of August. The views are incredible so I would definitely recommend taking a Friday to check out Keystone.
The first thing that hits you when you enter Zengo near the 16th Street mall in downtown Denver is the atmosphere. The low lighting, the expansive bar and the couches in the lounge all say one thing- "I am hip and young in Denver."
If you are spending a day in Golden and looking for free attractions, The Colorado School of Mines Geology Museum has a large display of rare gemstones, and their mining display downstairs should not be missed! One of the main attractions at the School of Mines Geology Museum is a moon rock collected during the Apollo 17 lunar mission!
When:
Monday - Saturday 9am - 4pm
Sunday 1pm - 4pm
Where:
1310 Maple St., Golden, CO 80401
The Museum is located in downtown Golden on the Colorado School of Mines campus, in the General Research Library building.
Check their web site for details:
The Budweiser tour in Fort Collins ranks right up there with the Coors tour in the battle of the Colorado beer tours. Anheuser-Busch has offered very professional and detailed tours of their Fort Collins brewery for many years and the popularity continues to grow.