Colorado is known for it's goofy festivals and the Great Fruitcake Toss is certainly one of the headliners. This Manitou Springs tradition is held every year after the holidays in an effort to dispose of certain unwanted confections you may have acquired.
Some people prefer to launch their cakes by hand but many choose to build elaborate contraptions to give their fruitcakes the send off they deserve. There are various cake launching categories as well as competitions for the best and prettiest fruit cakes.
When:
The 2014 Great Fruitcake Toss festival has been cancelled. Hopefully it will be back in 2015.
Where:
In Manitou Springs at the Manitou Springs High School track.
401 El Monte Place
Manitou Springs, CO 80829.
Golden, Colorado celebrates Buffalo Bills birthday in grand style every year at Rock Rest Lodge. This free festival features re-enactments of the wild west days as well as great music, food, and western authors.
The Pueblo Chile & Frijoles Festival in Southeast Colorado is guaranteed to burn your eyes with fun! Besides being overcome with tears in the chili roasting area, you will find a diverse selection of music and dance performances as well as local vendors.
This October festival has become a Denver tradition.

Garden of the Gods in Colorado Springs is probably the most beautiful small park in the state. Paved trails make it easy to wander around and check out the amazing cliffs and spires. Picnic areas, paved and unpaved hiking trails, horseback riding, a trading post, and a visitor's center with amazing views; Garden of the Gods is a great place to spend a day.
The 8th Annual Parker Oktoberfest will be held in O'Brien Park in Old Town Parker Colorado on September 14th & 15th, 2013.
Frisco's annual Wassail Days celebrate the coming holiday season in typical Frisco style with a chili cookoff, free winter activities, and free cups of an Old English cider and spice mixture called Wassail. Local shops compete for your vote as the best Wassail in Frisco.
For 2012, Wassail Days takes place December 8th through 16th.
Some highlights of this week long event:
December 8th: Santa Dash for Cash annual run.
Tree lighting.
Chili Cook-off.
December 12th: Wassail night at Frisco's history park.
December 13th: Free Tubing at Frisco Adventure Park.
Free sleigh rides at Frisco Adventure Park.
Free Nordic skiing at Frisco Nordic Center! (I'll be at this one!)
Advance reservations are required for many of the events.
See the Wassail Days web site for reservation info:
Deprecated
: Methods with the same name as their class will not be constructors in a future version of PHP; Zebra_Image has a deprecated constructor in
/home/ec2-user/www/public_html/freeindenver/components/com_jem/classes/Zebra_Image.php
on line
46
The United States Olympic Training Center in Colorado Springs is the home of a huge Olympic visitor's center, the U.S. Olympic Hall of Fame, and serves as the training center for many of our country's top athletes. A free tour of the Olympic Complex is one of the best things to do in Colorado Springs.
One of the best free Denver attractions for kids, the Children's Museum of Denver's free day takes place from 4pm to 8pm on the first Tuesday of every month, known as Target Tuesdays.
The Colorado State Capital is one of the popular Denver Attractions, not only for the well known '5280 step' but also for the free tours inside.
Why take a Colorado State Capitol tour? I'll give you three reasons:
The Colorado State Capital building in downtown Denver allows you to watch our state Legislature in action. As more people take an interest in the workings of our government, this is a great opportunity to see firsthand how the system works. The Colorado State Legislature is in session from early January to early May.
The capitol building itself is awash in history and amazing architecture. It was built using Colorado materials as much as possible, such as Colorado gold for the dome, granite walls from Granite, Colorado, and Colorado's distinctive red onyx throughout the interior.
The views from the Dome tour are some of the best in Denver!

Location:
Just head for downtown Denver and the 16th Street Mall, you can't miss the gold domed building beyond the southern end of 16th street mall. The steps on the western side are the most popular area to enter as the "1 mile above sea level" markers are there. The civic center park area has become very sketchy, expect to encounter quite a few homeless if you walk through the park.
Visitors to the state capitol are allowed to wander the public areas on their own, or you can take one of several guided tours:

Historical Tours:
All about construction of the building and early Colorado history, as well as some of the more interesting artifacts on display within the building. Reservations are not required unless you have a group of 10 or more. Tours are 45 minutes long and are available weekdays except holidays.
Historical Tour Hours:
10am - 3pm every Monday - Friday
Legislative Tours:
Legislative tours are a popular field trip for Colorado grade school students. When possible, you will make stops in the House and Senate galleries to see the legislature in action. This tour is only for school groups and reservations are required.
Legislative Tour Schedule:
Annually, early January through early May. Reservations are required.

Dome Tours (currently closed):
This tour climbs a long spiral staircase to an indoor observation area with amazing views of Denver.
Dome Tour Hours:
Daily from 9am to 2:30pm. Reservations are required.
Dome tours are currently closed until further notice due to dome renovations.
Mr. Brown's Attic:
This exhibit area illustrates Colorado's history and the legislative process, and includes a hands-on children's area. The attic is open 9am to 3pm on weekdays and reservations are not necessary.
For more information about Colorado State Capitol Tours, visit the Colorado Legislative Council Site:
The Boulder History Museum offers free admission on the first Sunday of every month. This is a great deal and a chance for the rest of us to check out the museum's permanent displays, changing exhibits, and kids activities.
Patsy's Candies in Colorado Springs takes the making of chocolate candy to a whole new level. Free tours of their factory demonstrate the handcrafted nature of Patsy's Candies and highlight the artisanship present in their high quality candies.
If you're looking for free things to do in Aspen, Colorado, good luck! Just kidding...
It turns out that Aspen has a free art museum and hiking / biking trail system that are both amazing Aspen attractions.
The museum is always free, but check their web site to see what is currently on display. If you want a more scenic experience, you can get to the museum by walking or biking the trail that goes through the neighborhoods and begins behind the visitor center at Rio Grande Ball Fields. If you walk the trail, make sure you visit the free and amazingly beautiful John Denver Sanctuary!
Location:
590 North Mill Street
Aspen, CO 81611 Map and Schedule
Aspen Art Museum Web Site and Schedule: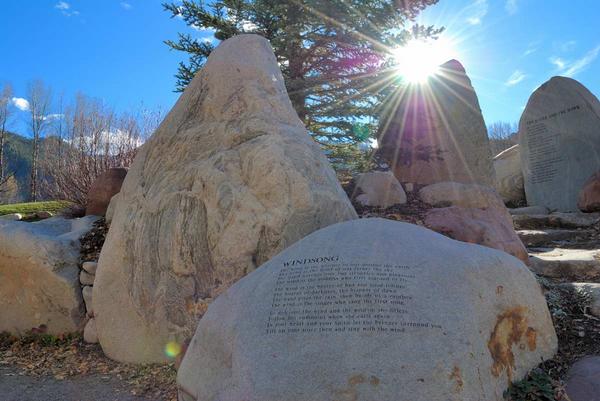 The Colorado Ski Museum & Snowboard Museum in Vail Village celebrates Colorado's rich ski history with a huge collection of artifacts and exhibits covering the whole of ski and snowboard history in Colorado.