The Denver Center for the Performing Arts offers a limited number of $10 tickets, every Tuesday morning, for shows coming later in the week.
The 8th Annual Parker Oktoberfest will be held in O'Brien Park in Old Town Parker Colorado on September 14th & 15th, 2013.
Colorado is known for it's goofy festivals and the Great Fruitcake Toss is certainly one of the headliners. This Manitou Springs tradition is held every year after the holidays in an effort to dispose of certain unwanted confections you may have acquired.
Some people prefer to launch their cakes by hand but many choose to build elaborate contraptions to give their fruitcakes the send off they deserve. There are various cake launching categories as well as competitions for the best and prettiest fruit cakes.
When:
The 2014 Great Fruitcake Toss festival has been cancelled. Hopefully it will be back in 2015.
Where:
In Manitou Springs at the Manitou Springs High School track.
401 El Monte Place
Manitou Springs, CO 80829.
The South Golden Road area around the Sonic drive-in is home to a very large monthly car show called the Golden Super Cruise. They typically hold this event on the first Saturday of every month from May through October. One of the best things to do in Golden on a Saturday evening.
Western Welcome Week is a festival in Littleton Colorado that celebrates our western tradition of community cooperation. This is the premier event in the Denver area for clubs, charities, and other non-profit organizations. Instead of the typical endless line of vendor booths, you will find tents set up to gain your interest and participation in various non-profit organizations. Finding a new hobby or charitable cause to get involved with is one of the rewarding things to do at Western Welcome Week.
Frisco's annual Wassail Days celebrate the coming holiday season in typical Frisco style with a chili cookoff, free winter activities, and free cups of an Old English cider and spice mixture called Wassail. Local shops compete for your vote as the best Wassail in Frisco.
For 2012, Wassail Days takes place December 8th through 16th.
Some highlights of this week long event:
December 8th: Santa Dash for Cash annual run.
Tree lighting.
Chili Cook-off.
December 12th: Wassail night at Frisco's history park.
December 13th: Free Tubing at Frisco Adventure Park.
Free sleigh rides at Frisco Adventure Park.
Free Nordic skiing at Frisco Nordic Center! (I'll be at this one!)
Advance reservations are required for many of the events.
See the Wassail Days web site for reservation info:
The National Park Service offers free entrance to all National Parks a few times each year. This is a great way to explore our beautiful Colorado park lands.
Deprecated
: Methods with the same name as their class will not be constructors in a future version of PHP; Zebra_Image has a deprecated constructor in
/home/ec2-user/www/public_html/freeindenver/components/com_jem/classes/Zebra_Image.php
on line
46
Liftopia Ski Discounts
One of the easiest ways to find Colorado ski discounts is to search Liftopia.com. They have a small number of discounted tickets available each day of the ski season at resorts all over Colorado. You purchase your tickets on Liftopia.com, then print your receipt and take the receipt to the ticket window to receive your tickets.
Best Time To Find Discounts
Typically weekdays and especially Tuesdays have the best discounts. Early season and late season have better discounts.
Colorado resorts offering substantial Liftopia ski discounts:
Arapahoe Basin.
Copper Mountain.
Durango.
Loveland.
Monarch Mountain.
Ski Cooper.
Sunlight.
Winter Park.
Some other resorts have discounts on Liftopia that really aren't discounts at all.
Check out Liftopia:
Rentals
If you need to pick up rentals on your way to the mountain, my favorite super cheap rental shop is Maison De Ski in Idaho Springs.
The New Belgium Brewery in Fort Collins has had to greatly modify their previously awesome tour and beer sampling system. They never said why they changed, but it was obvious what the problem was when I visited. Because of the free beer samples, the place was overrun with college kids who wanted to party hard for free.
Now to get a small free sample you must take the full brewery tour, and reservations fill up online weeks or months in advance. If you go there without being signed up for a tour, you can still buy beer at the bar for a discounted rate.
Despite the changes, this is still an excellent small brewery to see and learn about.
Location: 500 Linden Street in old town Fort Collins.
Liquid Center Hours:
Tuesday - Sunday 10am to 6pm
Closed on Sundays until Feb 9th, 2014.
Guided Tour Hours:
Tuesday - Sunday 11am to 4:30pm
Closed on Sundays until Feb 9th, 2014.

New Belgium Beer Web Site:
The Peterson Air and Space Museum has one of the better displays of vintage and historic military aircraft in the western United States.
If you're looking for free things to do in Aspen, Colorado, good luck! Just kidding...
It turns out that Aspen has a free art museum and hiking / biking trail system that are both amazing Aspen attractions.
The museum is always free, but check their web site to see what is currently on display. If you want a more scenic experience, you can get to the museum by walking or biking the trail that goes through the neighborhoods and begins behind the visitor center at Rio Grande Ball Fields. If you walk the trail, make sure you visit the free and amazingly beautiful John Denver Sanctuary!
Location:
590 North Mill Street
Aspen, CO 81611 Map and Schedule
Aspen Art Museum Web Site and Schedule: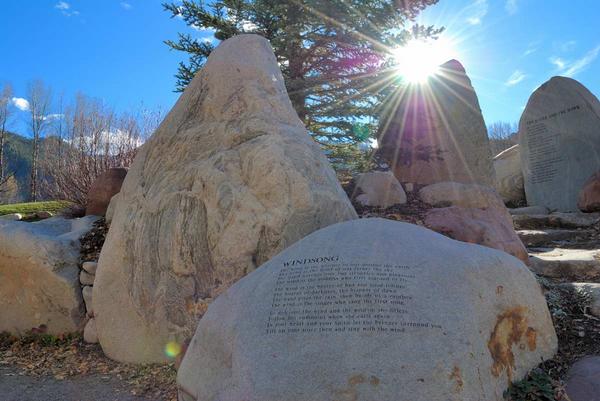 The Denver Zoo free days are by far the most popular Denver free days for families with kids, and are typically held during the fall and winter.
Denver Mint Tours are closed for construction through February 27, 2014.
If you ever wanted to know where that change in your pocket comes from, the free Denver Mint Tours are the place to find out! Tours are free of charge Monday through Thursday at the United States Mint in downtown Denver. Reservations must be made in advance through the United States Mint Tour Reservation System
The Denver Mint building is highly secure, so you will need to pass through a security screening before your tour begins. Many common items are not permitted on the tour, such as purses, check their web site for a detailed list of prohibited items. The tour itself is very informative and interesting, discussing not only how new coins are made but also America's coin making history.
When:
Year-round, Monday - Thursday.
Reservations are required.
Be at the tour entrance 30 minutes prior to your tour time.
Location:
320 West Colfax Avenue
It's just off the southern end of the 16th Street Mall near Civic Center Park.
Visit their web site for tour details and reservations:
The Golden History Center, along Clear Creek next to the Golden Library, and the Astor House Museum, offer free days from time to time. The next free day is during the winter Candlelight Walk, December 5th, 2014.
 Details from the Golden History Museums web site: