This October festival has become a Denver tradition.
Mountain Fest. It's as fun as it sounds.

Enjoy an afternoon of mountain-centric activities and discover all the exciting benefits of Colorado Mountain Club membership from noon to 4pm Saturday, March 25. This FREE event will be held at the American Mountaineering Center, 710 10th Street in Golden, Colorado. The festivities will kick off at noon featuring your 1st drink free from Upslope Brewing Company and Stem Ciders. Mountain Fest is the perfect way to get motivated and learn new skills and for spring and summer mountain adventures. This year's event will feature, outdoor skills clinics, tours and a Beacon clinic in the American Mountaineering Museum, gear demos, open climbing , and CMC membership deals.

The highlight of the afternoon will be an expo featuring the CMC's schools and courses: Wilderness Trekking School (WTS), Basic Mountaineering School (BMS), Fly Fishing School, Advanced Crevasse Rescue, Alpine Scrambling School, Intro to Hiking Safety, and Backpacking School. Volunteers will be on hand to give personal accounts about participating in CMC's educational activities. Expo booths will also showcase CMC's programs and initiatives: CMC's Adventure Travel Program, Conservation, Youth Education Program (YEP), CMC Press, Denver Trails and how to get started Volunteering in the CMC. The membership booth will feature membership deals.

Free presentations and clinics will include: How to Properly Fit and Purchase Footwear by Adidas- Mountain Fest lead sponsor; Compass demo and clinic presented by Brunton- Mountain Fest sponsor; Climbing the 14ers; Rock Self Rescue; Avalanche Education; Wilderness First Aid; Ten Outdoor Essentials and Mountain Safety; Know Before You Go Avalanche Education; and a Highlight of the CMC's Adventure Travel Trips from all over the world!

For a full schedule, please visit the CMC website at www.cmc.org/mountainfest

Don't miss this opportunity to experience the CMC for yourself or introduce friends and family to all the adventure the Club has to offer.
The Leadville Ski Joring Festival is one of the truly great annual ski competitions in Colorado. Well maybe not quite up to professional athlete standards, but what professional athlete would ever try this? Skiers are pulled at breakneck speeds by horses and attempt to spear rings that are hanging from the course as they jump over obstacles.
I don't know about you but I couldn't even do one of those things on an ice covered course. Watching athletes bring it all together is absolutely thrilling. The compeition is just as fierce as an x-games and the danger level is as extreme as it gets. The only thing missing is ESPN.
The Leadville Ski Joring Festival is a family oriented festival with many events and activities in addition to the ski joring. It's a
great way to spend a weekend in the mountains and a must see if you're a ski enthusiast who has seen enough slaloms for one season.
When:
Saturday and Sunday March 1-2, 2014.
Where:
Downtown Leadville, Co.
For more information check the Leadville Ski Joring site:
The National Park Service offers free entrance to all National Parks a few times each year. This is a great way to explore our beautiful Colorado park lands.
Looking for a popular Denver attraction for the kids? The free Denver Movies in the Park are one of the top things to do in Denver with the family, and not to be missed if you're in Denver with kids.
The free Rocky Mountain Arsenal Wildlife Refuge in Commerce City, Colorado (near Denver) is a beautiful and pristine National Wildlife Refuge, representing an impressive cleanup and conversion of a former weapons and rocket fuel processing facility. The views of the mountains from this perfect spot on the plains are quite impressive.
One of the best ways to experience Denver's rich Hispanic heritage is to visit the annual free Denver Cinco De Mayo Festival, one of the best things to do in Denver on a May weekend.
Deprecated
: Methods with the same name as their class will not be constructors in a future version of PHP; Zebra_Image has a deprecated constructor in
/home/ec2-user/www/public_html/freeindenver/components/com_jem/classes/Zebra_Image.php
on line
46
First Fridays Art Walk
Event
Title:

First Fridays Art Walk

When:

Fri, 3. April 2020

Category:

Event Custom Field 1:

/tours/136-first-fridays-free-art-walk
Description
Whether you choose the Santa Fe Art Walk or another art district, art walks are a fun way to spend a Friday evening.
Happy hour at the Irish Snug just south of Denver offers cheap, quality food and more than affordable drinks. Their happy hour menu is offered every day from 3-7 and 10-12. A diner will encounter traditional Irish fare, such as corned beef sliders and sangers. If you don't like Irish food, don't worry. The Irish Snug also offers burgers, tex mex and sophisticated American bar food.
The Poudre Landmarks Foundation has some of the best Fort Collins attractions for history buffs. Their historic Avery House in Fort Collins offers free tours on Saturdays and Sundays from 1pm to 4pm. The tour guides provide a wealth of information about the city's early days, and what life was like in the front range in the late 1800's. This is one of the great historical things to do in Colorado, as Fort Collins has a rich and colorful early history in the settling of Colorado.
When:
Year-round Saturday and Sunday
1pm to 4pm
For 2014, the Poudre Landmarks web site is incomplete and it is unknown whether Avery House tours are still taking place. Hopefully they will release an updated schedule soon. Call them to check on the latest situation: 970-221-0533
Where:
328 West Mountain Avenue
Fort Collins, CO 80524
Avery House Web Site:
If you're looking for free things to do in Aspen, Colorado, good luck! Just kidding...
It turns out that Aspen has a free art museum and hiking / biking trail system that are both amazing Aspen attractions.
The museum is always free, but check their web site to see what is currently on display. If you want a more scenic experience, you can get to the museum by walking or biking the trail that goes through the neighborhoods and begins behind the visitor center at Rio Grande Ball Fields. If you walk the trail, make sure you visit the free and amazingly beautiful John Denver Sanctuary!
Location:
590 North Mill Street
Aspen, CO 81611 Map and Schedule
Aspen Art Museum Web Site and Schedule: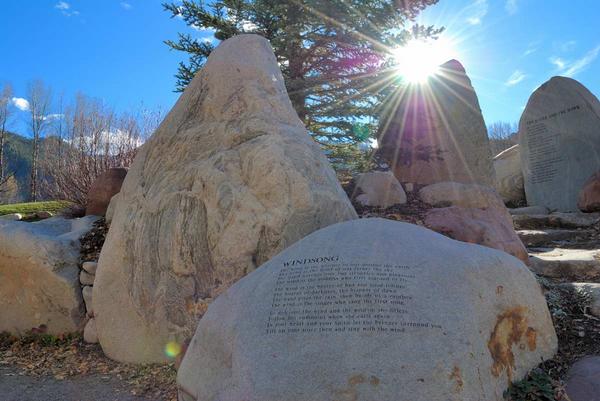 The Denver Art Museum has a free day on the first Saturday of every month. The Denver Art Museum is a great place to spend an afternoon with friends in downtown Denver.
The New Belgium Brewery in Fort Collins has had to greatly modify their previously awesome tour and beer sampling system. They never said why they changed, but it was obvious what the problem was when I visited. Because of the free beer samples, the place was overrun with college kids who wanted to party hard for free.
Now to get a small free sample you must take the full brewery tour, and reservations fill up online weeks or months in advance. If you go there without being signed up for a tour, you can still buy beer at the bar for a discounted rate.
Despite the changes, this is still an excellent small brewery to see and learn about.
Location: 500 Linden Street in old town Fort Collins.
Liquid Center Hours:
Tuesday - Sunday 10am to 6pm
Closed on Sundays until Feb 9th, 2014.
Guided Tour Hours:
Tuesday - Sunday 11am to 4:30pm
Closed on Sundays until Feb 9th, 2014.

New Belgium Beer Web Site:
The Colorado Ski Museum & Snowboard Museum in Vail Village celebrates Colorado's rich ski history with a huge collection of artifacts and exhibits covering the whole of ski and snowboard history in Colorado.
I am a sucker for old buildings, and McCormicks Fish House and Bar, located in LoDo in downtown Denver, has everything I'm looking for.