The annual Community Car Show in Littleton takes place Saturday September 12th, 2015, from 10am to 2pm. Admission is free both for spectators and exhibitors. The car show takes place at Heritage United Methodist Church and will include music, free snacks, and you will vote on the People's Choice winner.
After the car show, a drag race takes place from 4pm - 8pm at Bandimere Speedway in Morrison. Admission is free for spectators, and $30 for racers. 
You are encouraged to bring a canned food item or good condition used winter coat or boots.
When:
Saturday September 12, 2015
Car show runs from 10am to 2pm.
Drag race runs from 4pm to 8pm.
Where:
Car show takes place at Heritage United Methodist Church:
     7077 S. Simms Street
     Littleton, CO 80127
     (next to Chatfield Sr. High)
Drag Race takes place at Bandimere Speedway in Morrison:
    Immediately off the C-470 Morrison exit.
Clear Creek History Park in downtown Golden is now free to walk through, sunrise to sunset every day.
The free Rocky Mountain Arsenal Wildlife Refuge in Commerce City, Colorado (near Denver) is a beautiful and pristine National Wildlife Refuge, representing an impressive cleanup and conversion of a former weapons and rocket fuel processing facility. The views of the mountains from this perfect spot on the plains are quite impressive.
The free Sunnyside Music Festival is a showcase of Colorado talent that takes place each year in Denver's Sunnyside neighborhood.
Held annually at the end of July, the Colorado Dragon Boat Festival is a colorful and tradition-filled celebration of Asian culture. The adult and youth boat racing competitions have grown every year and are an amazing event to watch. The performing arts stages feature the talent of Asian dance and music performances as well as martial arts exhibitions. A colorful and amazing festival and a great thing to do on a summer Denver weekend.
Don't miss the 2016 Colorado Dragon Boat Festival!
Colorado puts on quite a celebration for Independence day, with a large number of fireworks shows across the state. There are events of all sizes in 2017. Here we list some of the larger shows both in the Denver metro area as well as across the state.
The beautiful Morrison Nature Center is a free park in Aurora, Colorado that is definitely worth checking out when you are in the area.
Deprecated
: Methods with the same name as their class will not be constructors in a future version of PHP; Zebra_Image has a deprecated constructor in
/home/ec2-user/www/public_html/freeindenver/components/com_jem/classes/Zebra_Image.php
on line
46
When perusing the happy hour menu at The Hornet in SoBo, just south of downtown Denver, you really only need to ask yourself one question- What will I order with my Bacon and Brie Home Fries? Yes, you read that right, you can order a plate of home fries piled with creamy brie cheese and salty bacon. What else can a person want?
Keystone Ski Resort offers free summer scenic chair lift rides every Friday from 3-7pm, starting June 14 and continuing until summer activities close at the end of August. The views are incredible so I would definitely recommend taking a Friday to check out Keystone.
If you're looking for free things to do in Aspen, Colorado, good luck! Just kidding...
It turns out that Aspen has a free art museum and hiking / biking trail system that are both amazing Aspen attractions.
The museum is always free, but check their web site to see what is currently on display. If you want a more scenic experience, you can get to the museum by walking or biking the trail that goes through the neighborhoods and begins behind the visitor center at Rio Grande Ball Fields. If you walk the trail, make sure you visit the free and amazingly beautiful John Denver Sanctuary!
Location:
590 North Mill Street
Aspen, CO 81611 Map and Schedule
Aspen Art Museum Web Site and Schedule: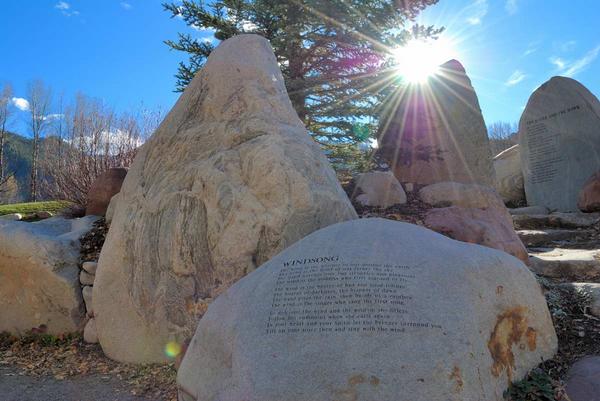 Half Fast Subs in Boulder has one of the largest menu choices I've ever seen at a restaurant. The hardest thing to do at this place it to make a decision between the hot subs, cold subs, veggie subs and even salads. Whatever you chose, you won't be disappointed.
OK, I normally make it a policy to only check out Denver happy hours that have food specials with drink specials. However, when I saw that that 5280 had deemed Euclid Hall the best Denver happy hour, I had to check it out for myself. I went in skeptical, and came out satisfied and stuffed.
The Coors tour is one of Colorado's most famous free tours, and one of the top Colorado attractions. If you are in the Denver area, try to make the trip west to the Coors tour in downtown Golden.
After parking, you will be picked up by a small bus and taken on a short tour of downtown Golden. The driver will provide information about Golden and Coors along the way.
After exiting the bus, you go into the Coors tour center, where you will receive an audio device that you listen to as you follow the self-guided tour.
The Coors tour is very in depth, taking you through the history of Coors and the stages of brewing and packaging. You will see the huge brewing vats and other facilities critical to the process. The packaging area is one of the most dramatic aspects when it is in full operation.
In the middle of the Coors tour you enter a room which serves a small sample of the freshest beer you will likely ever taste, recently off of the production line. At the end of the tour you enter the bar area where you receive three free drinks of your choice! And don't worry, they have root beer and other drinks for the designated driver and the children.
The Coors tour is so popular that it can be very crowded with long wait times at the bus and bar. Consider attending earlier in the day or on a weekday.
When:
Winter Hours:
Thursday 10-4
Friday 10-4
Saturday 10-4
Sunday noon-4
Monday 10-4
Closed Tuesday, Wednesday and all major holidays.
Summer Hours (May 29 through Labor Day):
Monday - Saturday 10am - 4pm
Sunday 12noon - 4pm
Closed on all major holidays.
Specific Closure Dates:
April 20th.
May 26, 27, 28.
July 4th.
September 1, 2, 3.
November 28-29.
December 24-25.
December 31-January 1.
Where:
The Coors tour is located in the middle of downtown Golden. The gigantic concrete buildings are impossible to miss.
Parking for the tours is in a large lot at the intersection of 13th street and Ford Street. The line for the Coors tour bus forms near this intersection.
Information about the Coors tour from the MillerCoors site:
The University of Colorado Museum of Natural History is a free natural history museum on the CU Boulder campus. They have excellent changing exhibits, a dinosaur section, and an extensive bird display. A small donation is requested to help keep the museum open and free. This is a fun small natural history museum for adults and curious kids.
When:
Monday - Friday 9am - 5pm
Saturday 9am - 4pm
Sunday 10am - 4pm
Where:
The Henderson Building on the CU-Boulder campus, between 15th and 16th streets east of Broadway.
For details check their web site: