The free Colorado Mineral and Fossil Spring Show brings gem and fossil dealers from across the U.S. to the Denver area to showcase their huge selection of amazing finds.
Up to 85 Retail / Wholesale Gem, Mineral, Fossil, Jewelry Dealers From All Over The USA
When:
April 14-16, 2017
Location:
The Crowne Plaza Dia
15500 EAST 40TH AVENUE, DENVER, CO 80239
http://www.rockygems.com/colorado-mineral--fossil-spring-show-2017.html
The Evergreen Chamber Orchestra will have a free performance on Saturday Feb. 2, 2013, 7pm at Evergreen High School. Talented students from area schools will participate with the Evergreen Orchestra in this free concert.
The Evergreen Chamber Orchestra Web Site:
http://www.evergreenchamberorch.org/
On summer Thursdays and Fridays the laid back atmosphere of Snowmass Colorado comes alive with their free Snowmass Village Summer Concerts. The music, set up on a Snowmass ski run stage near the upper village, is loud and wild.
When:
Summer Thursdays (and sometimes Fridays) from 6:15 to 8:30pm.
Where:
Snowmass upper village.
Schedule:
The 2013 Snowmass Village Free Summer Concert schedule is as follows:

June 20: Freddy Jones
June 27: The Dunwells
Friday July 5: CJ Chenier
July 11: The Revivalists
July 18: Mountain Standard Time
July 25: J.Boog
August 1: Tab Benoit
August 8: Nigel Hall
August 15: Robert Walters

More Info from the Aspen Snowmass web site:
Looking for free Denver music? City Park in downtown Denver has a free summer jazz concert schedule with top performers. 
The Denver Center for the Performing Arts offers a limited number of $10 tickets, every Tuesday morning, for shows coming later in the week.
Golden, Colorado celebrates Buffalo Bills birthday in grand style every year at Rock Rest Lodge. This free festival features re-enactments of the wild west days as well as great music, food, and western authors.
Looking for a popular Denver attraction for the kids? The free Denver Movies in the Park are one of the top things to do in Denver with the family, and not to be missed if you're in Denver with kids.
Deprecated
: Methods with the same name as their class will not be constructors in a future version of PHP; Zebra_Image has a deprecated constructor in
/home/ec2-user/www/public_html/freeindenver/components/com_jem/classes/Zebra_Image.php
on line
46
The free Underhill Museum is a small but quaint depiction of early life in downtown Idaho Springs, with several rooms set up to display a typical home setting in the early 1900's. The kitchen in particular is very elaborate, and during better weather the Victorian Garden is open to the public. In addition, there is an old vault, antique cash register, and many photos of Idaho Springs through the years. 

This free museum earns revenue for the History Society of Idaho Springs with a bookstore located at the entrance. They have an excellent selection of Colorado books as well as a large used book inventory.

This is a nice free historical museum to visit while browsing the shops in downtown Idaho Springs. I'm no fan of tourist trap shops that are full of cheap imported junk, like many of the shops in more popular Colorado tourist destinations. The shops in Idaho Springs are not like that. Many feature locally made artisan works for reasonable prices.
Fall and Winter hours 2011-2012:
Saturday, Sunday, and Monday 11am to 5pm.

Location:
The Underhill Museum is at the western end of the strip in downtown Idaho Springs on Miner Street. Look for the sign that says "Books".

While you're in the area check out the Visitor Center and Heritage Museum at 2060 Miner Street.
Historic Idaho Springs site: 
Denver Mint Tours are closed for construction through February 27, 2014.
If you ever wanted to know where that change in your pocket comes from, the free Denver Mint Tours are the place to find out! Tours are free of charge Monday through Thursday at the United States Mint in downtown Denver. Reservations must be made in advance through the United States Mint Tour Reservation System
The Denver Mint building is highly secure, so you will need to pass through a security screening before your tour begins. Many common items are not permitted on the tour, such as purses, check their web site for a detailed list of prohibited items. The tour itself is very informative and interesting, discussing not only how new coins are made but also America's coin making history.
When:
Year-round, Monday - Thursday.
Reservations are required.
Be at the tour entrance 30 minutes prior to your tour time.
Location:
320 West Colfax Avenue
It's just off the southern end of the 16th Street Mall near Civic Center Park.
Visit their web site for tour details and reservations:

Art tours are always popular in Colorado, with several art centers located throughout the state. One of the main art districts on the front range is Prospect New Town in Longmont. The Prospect Artists in Longmont, Colorado open their studios each year for the last weekend of June. You will have the opportunity to view each artists' latest work and see the interior of each member's home or store front in this architecturally unique community. This is a special community of artists with unique expressions to match the unique architecture where they live and work.
2012 Schedule:
Saturday June 30 and Sunday July 1, 2012.
12 noon to 6 pm each day.
Where:
Prospect New Town.
Near Pike Road and North 107th Street
Longmont, Colorado, 80504.
Look for the green studio tour signs in front of the studio locations.
A map of the tour is available at www.prospectartistsassn.com.
For the latest details check the Prospect Artists Association web site:
For vacationers to Aspen, the Aspen Nordic center provides probably the ultimate cross country ski and snowshoe experience in Colorado, and it is entirely free!
The free Celestial Seasonings tour is a fun way to learn about tea and tea making, while sampling the most popular Celestial Seasonings flavors! A stop at the Celestial Seasonings tour is a favorite vacation destination if you're traveling to Colorado.
If you're looking for free things to do in Aspen, Colorado, good luck! Just kidding...
It turns out that Aspen has a free art museum and hiking / biking trail system that are both amazing Aspen attractions.
The museum is always free, but check their web site to see what is currently on display. If you want a more scenic experience, you can get to the museum by walking or biking the trail that goes through the neighborhoods and begins behind the visitor center at Rio Grande Ball Fields. If you walk the trail, make sure you visit the free and amazingly beautiful John Denver Sanctuary!
Location:
590 North Mill Street
Aspen, CO 81611 Map and Schedule
Aspen Art Museum Web Site and Schedule: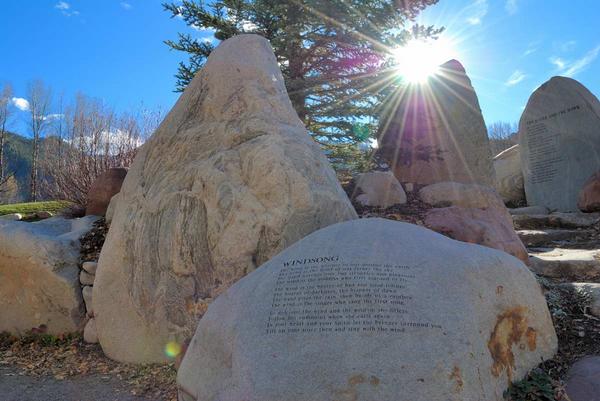 OK, I normally make it a policy to only check out Denver happy hours that have food specials with drink specials. However, when I saw that that 5280 had deemed Euclid Hall the best Denver happy hour, I had to check it out for myself. I went in skeptical, and came out satisfied and stuffed.