One of the best ways to experience Denver's rich Hispanic heritage is to visit the annual free Denver Cinco De Mayo Festival, one of the best things to do in Denver on a May weekend.
The Leadville Ski Joring Festival is one of the truly great annual ski competitions in Colorado. Well maybe not quite up to professional athlete standards, but what professional athlete would ever try this? Skiers are pulled at breakneck speeds by horses and attempt to spear rings that are hanging from the course as they jump over obstacles.
I don't know about you but I couldn't even do one of those things on an ice covered course. Watching athletes bring it all together is absolutely thrilling. The compeition is just as fierce as an x-games and the danger level is as extreme as it gets. The only thing missing is ESPN.
The Leadville Ski Joring Festival is a family oriented festival with many events and activities in addition to the ski joring. It's a
great way to spend a weekend in the mountains and a must see if you're a ski enthusiast who has seen enough slaloms for one season.
When:
Saturday and Sunday March 1-2, 2014.
Where:
Downtown Leadville, Co.
For more information check the Leadville Ski Joring site:
Looking for free Denver music? City Park in downtown Denver has a free summer jazz concert schedule with top performers. 
Jefferson County Open Space Parks are probably the best park value in Colorado. A tremendous variety of parks and activities, such as hiking, mountain biking, climbing, and geocaching, all free to anyone.
Here is a list of their parks, maps, details, etc...
The free Sunnyside Music Festival is a showcase of Colorado talent that takes place each year in Denver's Sunnyside neighborhood.
The Boulder Creek Festival takes place every Memorial Day weekend in Boulder along Boulder Creek, and features great free music, dancing, rides for the kids, and other entertainment. This is one of the best festivals of the year, and a great thing to do on Memorial Day weekend.
The Creek at the Peak raft and kayak race takes place on June 23rd, 2012 and provides a great opportunity to watch rafters and kayakers compete for prizes while supporting a great cause. Come check out the race and the after race festival in Idaho Springs on Saturday June 23rd. The festival takes place on the east side of the Springs at the ball fields. The race finishes just west of Idaho Springs and begins in Lawson.
The festival begins at noon and will feature live music, food from local restaurants, and Idaho Springs' famous Tommyknocker beer!
When: Saturday June 23rd, 2012.
The festival begins around noon and continues through the evening.
The races begin at 5pm and will probably finish around 7:30pm.
Where: Idaho Springs at the ball fields on the east side of town.
For all the details, check the Creek at the Peak site:
Deprecated
: Methods with the same name as their class will not be constructors in a future version of PHP; Zebra_Image has a deprecated constructor in
/home/ec2-user/www/public_html/freeindenver/components/com_jem/classes/Zebra_Image.php
on line
46
The Budweiser tour in Fort Collins ranks right up there with the Coors tour in the battle of the Colorado beer tours. Anheuser-Busch has offered very professional and detailed tours of their Fort Collins brewery for many years and the popularity continues to grow.

Art tours are always popular in Colorado, with several art centers located throughout the state. One of the main art districts on the front range is Prospect New Town in Longmont. The Prospect Artists in Longmont, Colorado open their studios each year for the last weekend of June. You will have the opportunity to view each artists' latest work and see the interior of each member's home or store front in this architecturally unique community. This is a special community of artists with unique expressions to match the unique architecture where they live and work.
2012 Schedule:
Saturday June 30 and Sunday July 1, 2012.
12 noon to 6 pm each day.
Where:
Prospect New Town.
Near Pike Road and North 107th Street
Longmont, Colorado, 80504.
Look for the green studio tour signs in front of the studio locations.
A map of the tour is available at www.prospectartistsassn.com.
For the latest details check the Prospect Artists Association web site:
If you're looking for free things to do in Aspen, Colorado, good luck! Just kidding...
It turns out that Aspen has a free art museum and hiking / biking trail system that are both amazing Aspen attractions.
The museum is always free, but check their web site to see what is currently on display. If you want a more scenic experience, you can get to the museum by walking or biking the trail that goes through the neighborhoods and begins behind the visitor center at Rio Grande Ball Fields. If you walk the trail, make sure you visit the free and amazingly beautiful John Denver Sanctuary!
Location:
590 North Mill Street
Aspen, CO 81611 Map and Schedule
Aspen Art Museum Web Site and Schedule: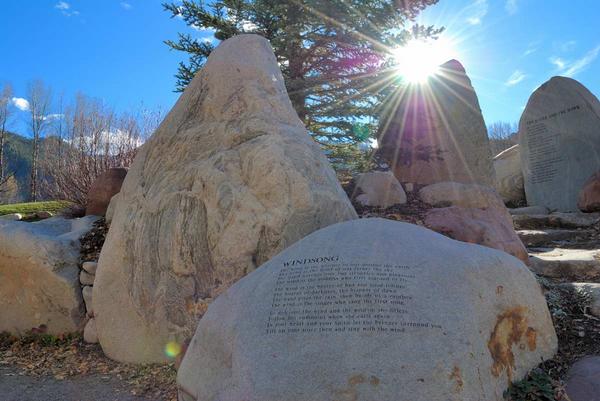 The first thing that hits you when you enter Zengo near the 16th Street mall in downtown Denver is the atmosphere. The low lighting, the expansive bar and the couches in the lounge all say one thing- "I am hip and young in Denver."
For 2013, Monarch Mountain is offering a free lift ticket in April if you purchase a $10 GEMS card.
Get the details and order your GEMS card here:
Location:
Monarch Mountain is located in South Central Colorado near Salida. Map
Learn more about Monarch Mountain Ski and Snowboard Area at their web site:
Winter Trails Day is a nationwide event, with free or discounted access to many cross country (nordic) ski trails and snowshoe trails, free tours, free rentals, and that sort of thing.
Half Fast Subs in Boulder has one of the largest menu choices I've ever seen at a restaurant. The hardest thing to do at this place it to make a decision between the hot subs, cold subs, veggie subs and even salads. Whatever you chose, you won't be disappointed.