Looking for a popular Denver attraction for the kids? The free Denver Movies in the Park are one of the top things to do in Denver with the family, and not to be missed if you're in Denver with kids.
Colorado Day is an annual tradition of celebrating Colorado's acceptance into statehood. Colorado was first recognized as a state on August 1, 1876, and now we celebrate Colorado Day on the first Monday of every August.
The Leadville Ski Joring Festival is one of the truly great annual ski competitions in Colorado. Well maybe not quite up to professional athlete standards, but what professional athlete would ever try this? Skiers are pulled at breakneck speeds by horses and attempt to spear rings that are hanging from the course as they jump over obstacles.
I don't know about you but I couldn't even do one of those things on an ice covered course. Watching athletes bring it all together is absolutely thrilling. The compeition is just as fierce as an x-games and the danger level is as extreme as it gets. The only thing missing is ESPN.
The Leadville Ski Joring Festival is a family oriented festival with many events and activities in addition to the ski joring. It's a
great way to spend a weekend in the mountains and a must see if you're a ski enthusiast who has seen enough slaloms for one season.
When:
Saturday and Sunday March 1-2, 2014.
Where:
Downtown Leadville, Co.
For more information check the Leadville Ski Joring site:
The downtown Louisville Street Faire in Louisville, Colorado brings great music to the Front Range every summer Friday from mid-June to mid-August. This fair's last performance of the year is usually the biggest with internationally known headliners.
In addition to the concert, the fair features excellent food and drink vendors, and children's activities such as arts and crafts.
When:
Summer Fridays from 5 to 10pm.
Music is typically 6:30 - 9.
Where:
Downtown Main Street in Louisville.
Schedule:
The 2013 Louisville Street Faire schedule is as follows:

June 14: CJ Chenier
June 21: Young Dubliners
June 28: Richie Furay
July 12: BoDeans
July 19: The Samples
July 26: Samantha Fish
August 2: Tab Benoit
August 9: Fireball
August 16: Dickey Betts and Great Southern (CANCELLED DUE TO ILLNESS)
I was really looking forward to seeing Dickey Betts again and hope he gets well soon and can come back to Colorado.
Chris Daniels and Freddi will be stepping in at the last minute for this concert.
More Info from the downtown Louisville web site:
The "Golden Community Rodeo" is a weekly kayak competition in downtown Golden along Clear Creek at the Golden kayak park. You can sit or stand along the creek and watch the competition. It's pretty amazing what these kayakers can do, and definitely worth taking some time to watch. Can you think of a better thing to do on a warm spring Wednesday?
Competitors are arranged according to class. This year the classes are:
Juniors
Masters
Men: Sport, Intermediate, and Expert
Women: Sport, Intermediate, and Expert
The city of Denver operates a series of beautiful and diverse parks in the foothills areas west and south of Golden.
Held annually at the end of July, the Colorado Dragon Boat Festival is a colorful and tradition-filled celebration of Asian culture. The adult and youth boat racing competitions have grown every year and are an amazing event to watch. The performing arts stages feature the talent of Asian dance and music performances as well as martial arts exhibitions. A colorful and amazing festival and a great thing to do on a summer Denver weekend.
Don't miss the 2016 Colorado Dragon Boat Festival!
Deprecated
: Methods with the same name as their class will not be constructors in a future version of PHP; Zebra_Image has a deprecated constructor in
/home/ec2-user/www/public_html/freeindenver/components/com_jem/classes/Zebra_Image.php
on line
46
The Peterson Air and Space Museum has one of the better displays of vintage and historic military aircraft in the western United States.
The first thing that hits you when you enter Zengo near the 16th Street mall in downtown Denver is the atmosphere. The low lighting, the expansive bar and the couches in the lounge all say one thing- "I am hip and young in Denver."
The United States Olympic Training Center in Colorado Springs is the home of a huge Olympic visitor's center, the U.S. Olympic Hall of Fame, and serves as the training center for many of our country's top athletes. A free tour of the Olympic Complex is one of the best things to do in Colorado Springs.
Happy hour at the Irish Snug just south of Denver offers cheap, quality food and more than affordable drinks. Their happy hour menu is offered every day from 3-7 and 10-12. A diner will encounter traditional Irish fare, such as corned beef sliders and sangers. If you don't like Irish food, don't worry. The Irish Snug also offers burgers, tex mex and sophisticated American bar food.
If you're looking for free things to do in Aspen, Colorado, good luck! Just kidding...
It turns out that Aspen has a free art museum and hiking / biking trail system that are both amazing Aspen attractions.
The museum is always free, but check their web site to see what is currently on display. If you want a more scenic experience, you can get to the museum by walking or biking the trail that goes through the neighborhoods and begins behind the visitor center at Rio Grande Ball Fields. If you walk the trail, make sure you visit the free and amazingly beautiful John Denver Sanctuary!
Location:
590 North Mill Street
Aspen, CO 81611 Map and Schedule
Aspen Art Museum Web Site and Schedule: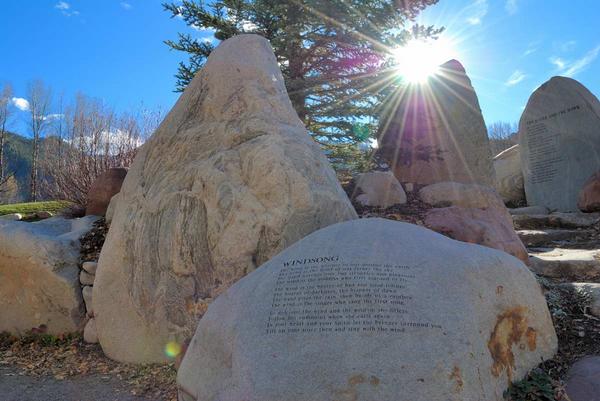 The free Celestial Seasonings tour is a fun way to learn about tea and tea making, while sampling the most popular Celestial Seasonings flavors! A stop at the Celestial Seasonings tour is a favorite vacation destination if you're traveling to Colorado.
The Golden History Center, along Clear Creek next to the Golden Library, and the Astor House Museum, offer free days from time to time. The next free day is during the winter Candlelight Walk, December 5th, 2014.
 Details from the Golden History Museums web site: