On the first weekend of June each year, Colorado waives fishing license requirements. This is a great chance to grab your gear out of storage and take the family to a nearby lake or stream for some serious trout fishing! 
Held annually at the end of July, the Colorado Dragon Boat Festival is a colorful and tradition-filled celebration of Asian culture. The adult and youth boat racing competitions have grown every year and are an amazing event to watch. The performing arts stages feature the talent of Asian dance and music performances as well as martial arts exhibitions. A colorful and amazing festival and a great thing to do on a summer Denver weekend.
Don't miss the 2016 Colorado Dragon Boat Festival!
The Pueblo Chile & Frijoles Festival in Southeast Colorado is guaranteed to burn your eyes with fun! Besides being overcome with tears in the chili roasting area, you will find a diverse selection of music and dance performances as well as local vendors.
2014's Frozen Dead Guy Days will be celebrated March 7 through March 9. The highlight of the event is really the Polar Plunge, where anyone can sign up to take a dive in a freezing pond. Some people do it for the thrill, some do it to raise money for charities, and some are just plain nuts. There is also a coffin race, hearse parade, music, and many other bizarre activities (frozen turkey bowling???). This is one of the most popular things to do in March for front range residents with cabin fever.
This is probably the wierdest festival I've ever heard of, even wierder than Manitou's fruitcake toss or Leadville's ski Joring. Come and learn about the history of the frozen dead guy and observe some of Nederland's finest citizens enjoying a day in the mountains.
Traffic can become a real problem for the small town so plan accordingly. Parking is available on the side streets but getting to them can take a while.
When:
March 7 - 9, 2014
Where:
The event is held in Nederland, Colorado (at the top of Boulder Canyon west of Boulder).
As more people down in town learn about this festival every year, it has grown from a small event for members of the mountain community to a really crowded winter festival for everyone in the front range. If the crowds don't bother you, come check it out:
Frozen Dead Guy Days Nederland Chamber web site:
If you want to learn more before you commit to a trip to the mountains, read all about the frozen dead guy here:
Frozen Dead Guy Days Wiki:
Western Welcome Week is a festival in Littleton Colorado that celebrates our western tradition of community cooperation. This is the premier event in the Denver area for clubs, charities, and other non-profit organizations. Instead of the typical endless line of vendor booths, you will find tents set up to gain your interest and participation in various non-profit organizations. Finding a new hobby or charitable cause to get involved with is one of the rewarding things to do at Western Welcome Week.
Colorado puts on quite a celebration for Independence day, with a large number of fireworks shows across the state. There are events of all sizes in 2017. Here we list some of the larger shows both in the Denver metro area as well as across the state.
Each year over Labor Day Weekend, Copper Mountain Ski Resort hosts the free Copper Country festival, with two full days of country, blues, and folk music from top name performers.
Deprecated
: Methods with the same name as their class will not be constructors in a future version of PHP; Zebra_Image has a deprecated constructor in
/home/ec2-user/www/public_html/freeindenver/components/com_jem/classes/Zebra_Image.php
on line
46
Denver Children's Musuem
Event
Title:

Denver Children's Musuem

When:

Tue, 4. February 2020

,

4:00 pm

-

8:00 pm

Category:

Event Custom Field 1:

/museums/25-cmd
Description
Fantastic playtime for younger kids!
One of the best free Denver attractions for kids, the Children's Museum of Denver's free day takes place from 4pm to 8pm on the first Tuesday of every month, known as Target Tuesdays.
Keystone Ski Resort offers free summer scenic chair lift rides every Friday from 3-7pm, starting June 14 and continuing until summer activities close at the end of August. The views are incredible so I would definitely recommend taking a Friday to check out Keystone.
For about 6 weeks each year in January and February, Ruby Hill Park in Denver features a free ski and snowboard park known as Ruby Hill Rail Yard.
If you're looking for free things to do in Aspen, Colorado, good luck! Just kidding...
It turns out that Aspen has a free art museum and hiking / biking trail system that are both amazing Aspen attractions.
The museum is always free, but check their web site to see what is currently on display. If you want a more scenic experience, you can get to the museum by walking or biking the trail that goes through the neighborhoods and begins behind the visitor center at Rio Grande Ball Fields. If you walk the trail, make sure you visit the free and amazingly beautiful John Denver Sanctuary!
Location:
590 North Mill Street
Aspen, CO 81611 Map and Schedule
Aspen Art Museum Web Site and Schedule: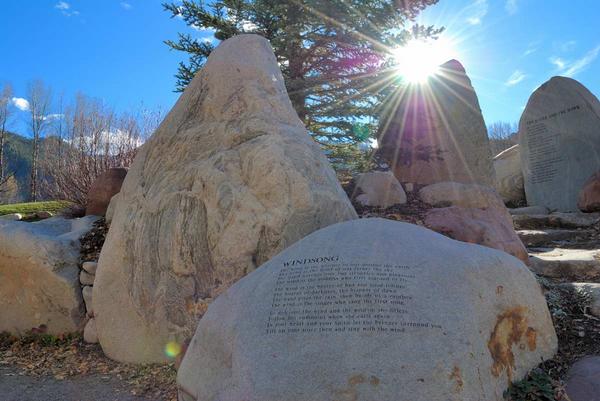 The United States Air Force Academy at Colorado Springs has a unique visitor center and chapel area that is free and open to the public. Visitors can learn a wealth of information about the academy and it's history as well as view the planes on display. The Chapel is absolutely beautiful and due to it's unique architecture it's probably the most photographed building in all of Colorado.
For 2014, Shell gas stations are offering 2 for 1 vouchers at several ski areas with a 10 gallon gas fill up. This means that if you buy at least 10 gallons of gas, you get a coupon good for a free lift ticket if you purchase one full price adult lift ticket. The deal is good at several ski areas.
Unfortunately, full price adult lift tickets have become so expensive that this isn't much of a "deal". But if you just want to ski one day at a participating resort this year, this will get you on the slopes for less than full price.
In Colorado, 2014's participating resorts are:
Copper Mountain
Crested Butte
Loveland
Monarch
Powderhorn
The SkiFreeDeals.com web site has a full list of participating Shell stations and ski resorts.
Learn more at skifreedeals.Com:
The Colorado Ski Museum & Snowboard Museum in Vail Village celebrates Colorado's rich ski history with a huge collection of artifacts and exhibits covering the whole of ski and snowboard history in Colorado.