Golden, Colorado celebrates Buffalo Bills birthday in grand style every year at Rock Rest Lodge. This free festival features re-enactments of the wild west days as well as great music, food, and western authors.
The Leadville Ski Joring Festival is one of the truly great annual ski competitions in Colorado. Well maybe not quite up to professional athlete standards, but what professional athlete would ever try this? Skiers are pulled at breakneck speeds by horses and attempt to spear rings that are hanging from the course as they jump over obstacles.
I don't know about you but I couldn't even do one of those things on an ice covered course. Watching athletes bring it all together is absolutely thrilling. The compeition is just as fierce as an x-games and the danger level is as extreme as it gets. The only thing missing is ESPN.
The Leadville Ski Joring Festival is a family oriented festival with many events and activities in addition to the ski joring. It's a
great way to spend a weekend in the mountains and a must see if you're a ski enthusiast who has seen enough slaloms for one season.
When:
Saturday and Sunday March 1-2, 2014.
Where:
Downtown Leadville, Co.
For more information check the Leadville Ski Joring site:
The Wheat Ridge Green Belt, also known as the Clear Creek Trail, is a beautiful area in the Denver Colorado suburbs to hike, bike, or just play on the jungle gyms!
The Denver Center for the Performing Arts offers a limited number of $10 tickets, every Tuesday morning, for shows coming later in the week.
One of the best ways to experience Denver's rich Hispanic heritage is to visit the annual free Denver Cinco De Mayo Festival, one of the best things to do in Denver on a May weekend.
The downtown Louisville Street Faire in Louisville, Colorado brings great music to the Front Range every summer Friday from mid-June to mid-August. This fair's last performance of the year is usually the biggest with internationally known headliners.
In addition to the concert, the fair features excellent food and drink vendors, and children's activities such as arts and crafts.
When:
Summer Fridays from 5 to 10pm.
Music is typically 6:30 - 9.
Where:
Downtown Main Street in Louisville.
Schedule:
The 2013 Louisville Street Faire schedule is as follows:

June 14: CJ Chenier
June 21: Young Dubliners
June 28: Richie Furay
July 12: BoDeans
July 19: The Samples
July 26: Samantha Fish
August 2: Tab Benoit
August 9: Fireball
August 16: Dickey Betts and Great Southern (CANCELLED DUE TO ILLNESS)
I was really looking forward to seeing Dickey Betts again and hope he gets well soon and can come back to Colorado.
Chris Daniels and Freddi will be stepping in at the last minute for this concert.
More Info from the downtown Louisville web site:
Looking for a popular Denver attraction for the kids? The free Denver Movies in the Park are one of the top things to do in Denver with the family, and not to be missed if you're in Denver with kids.
Deprecated
: Methods with the same name as their class will not be constructors in a future version of PHP; Zebra_Image has a deprecated constructor in
/home/ec2-user/www/public_html/freeindenver/components/com_jem/classes/Zebra_Image.php
on line
46
The United States Olympic Training Center in Colorado Springs is the home of a huge Olympic visitor's center, the U.S. Olympic Hall of Fame, and serves as the training center for many of our country's top athletes. A free tour of the Olympic Complex is one of the best things to do in Colorado Springs.
Free days for Colorado residents are held throughout the year at both the Denver Botanic Gardens and the Denver Botanic Gardens at Chatfield.

Howelsen Hill Ski Area is a historic ski area and Olympic training grounds operated by the city of Steamboat Springs, and is one of the only ski areas left in Colorado that is affordable on a daily basis. This ski area is a decent place for downhill skiers and snowboarders to make some quick laps, and features a nice terrain park, but it is especially nice for Cross Country / Nordic skiers.
There are only a handful of downhill runs served by 1 rope tow and 1 chair lift, but there are miles of Nordic trails. Howelson is lit for night skiing and often stays open until 8pm.
Oh yeah, the huge ski jumps are off limits to the public but they are an amazing sight!
2012 - 2013 Rates:
Lift Tickets: $20 per adult, discounts for children and seniors.
Terrain Park Only: $10
Nordic Trails Only: $10
Children's Magic carpet learning area: Free! (see concession booth for a free ticket).
$10 night skiing tickets are also available Tuesday through Friday.
Full lift ticket pricing breakdown for 2012-2013:
Hours and Season:
CLOSED MONDAYS.
Tuesday 1:00 pm – 6:00 pm

Wednesday 1:00 pm - 8:00pm

Thursday 3:45 pm - 8:00pm

Friday 10:00 am - 6:00 pm

Saturday and Sunday 10:00 am – 4:00 pm

Closed on Christmas Day and special holiday hours are in effect through Jan 3.
Howelson Hill Home Page and Maps:
Steamboat is fairly remote for a day trip, but if you can't afford the lodging in the area, there is a year-round campground that is reasonable called Steamboat Campground.
If you're looking for free things to do in Aspen, Colorado, good luck! Just kidding...
It turns out that Aspen has a free art museum and hiking / biking trail system that are both amazing Aspen attractions.
The museum is always free, but check their web site to see what is currently on display. If you want a more scenic experience, you can get to the museum by walking or biking the trail that goes through the neighborhoods and begins behind the visitor center at Rio Grande Ball Fields. If you walk the trail, make sure you visit the free and amazingly beautiful John Denver Sanctuary!
Location:
590 North Mill Street
Aspen, CO 81611 Map and Schedule
Aspen Art Museum Web Site and Schedule: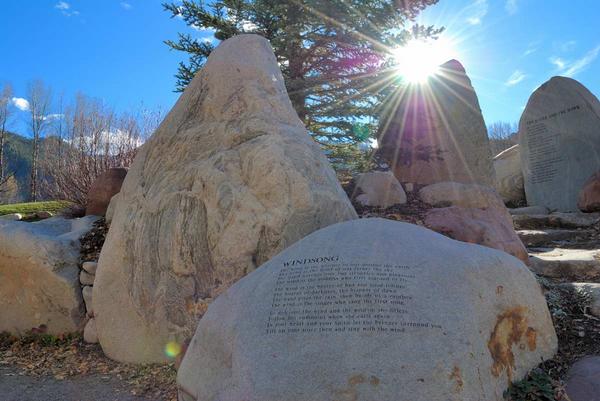 Patsy's Candies in Colorado Springs takes the making of chocolate candy to a whole new level. Free tours of their factory demonstrate the handcrafted nature of Patsy's Candies and highlight the artisanship present in their high quality candies.
The Littleton Museum is a 14 acre indoor and outdoor history museum depicting Colorado pioneer history. Two historic farm sites featuring a schoolhouse and blacksmith shop bring history to life in a way that consistently rates this museum as one of the top living history museums in the United States.
Denver's Art District on Santa Fe Drive features one of the more diverse collections of galleries in the United States, all situated within a short walking distance.