The Old Globeville Days Orthodox Food Festival celebrates Denver's international immigrant heritage with a diverse selection of free entertainment and international food. The music features outstanding performers of diverse folk heritage including an amazing Celtic performance. The incredible food selection is sample sized and you purchase tickets to try the samples. One of the best things to do in Denver on a warm mid-July weekend.
On the first weekend of June each year, Colorado waives fishing license requirements. This is a great chance to grab your gear out of storage and take the family to a nearby lake or stream for some serious trout fishing! 
Colorado Day is an annual tradition of celebrating Colorado's acceptance into statehood. Colorado was first recognized as a state on August 1, 1876, and now we celebrate Colorado Day on the first Monday of every August.
The South Golden Road area around the Sonic drive-in is home to a very large monthly car show called the Golden Super Cruise. They typically hold this event on the first Saturday of every month from May through October. One of the best things to do in Golden on a Saturday evening.
Bluff Lake Nature Center is a free wildlife and nature center park in Aurora in the Stapleton area. Hiking trails wind their way through the park, passing a seasonal lake and overlooks. This is an excellent Denver area attraction for nature watchers.
The Boulder Creek Festival takes place every Memorial Day weekend in Boulder along Boulder Creek, and features great free music, dancing, rides for the kids, and other entertainment. This is one of the best festivals of the year, and a great thing to do on Memorial Day weekend.
Brunswick Bowling Centers are offering free bowling for students during the summer of 2012. Kids or their parents (depending on age) sign up for Brunswick's Bonus Zone to get free bowling.
There are a few Brunswick Bowling Centers along the front range that offer the free bowling for kids promotion.
Find a bowling center:
Bonus Zone Sign up:
Deprecated
: Methods with the same name as their class will not be constructors in a future version of PHP; Zebra_Image has a deprecated constructor in
/home/ec2-user/www/public_html/freeindenver/components/com_jem/classes/Zebra_Image.php
on line
46
The Aurora History Museum is free and open every day except Monday and certain holidays. There is a permanent display of Aurora history as well as changing displays. This is a great Denver area free attraction, where you can gain a perspective on the real Colorado and the early days of settling this landscape.

Art tours are always popular in Colorado, with several art centers located throughout the state. One of the main art districts on the front range is Prospect New Town in Longmont. The Prospect Artists in Longmont, Colorado open their studios each year for the last weekend of June. You will have the opportunity to view each artists' latest work and see the interior of each member's home or store front in this architecturally unique community. This is a special community of artists with unique expressions to match the unique architecture where they live and work.
2012 Schedule:
Saturday June 30 and Sunday July 1, 2012.
12 noon to 6 pm each day.
Where:
Prospect New Town.
Near Pike Road and North 107th Street
Longmont, Colorado, 80504.
Look for the green studio tour signs in front of the studio locations.
A map of the tour is available at www.prospectartistsassn.com.
For the latest details check the Prospect Artists Association web site:
If you're looking for free things to do in Aspen, Colorado, good luck! Just kidding...
It turns out that Aspen has a free art museum and hiking / biking trail system that are both amazing Aspen attractions.
The museum is always free, but check their web site to see what is currently on display. If you want a more scenic experience, you can get to the museum by walking or biking the trail that goes through the neighborhoods and begins behind the visitor center at Rio Grande Ball Fields. If you walk the trail, make sure you visit the free and amazingly beautiful John Denver Sanctuary!
Location:
590 North Mill Street
Aspen, CO 81611 Map and Schedule
Aspen Art Museum Web Site and Schedule: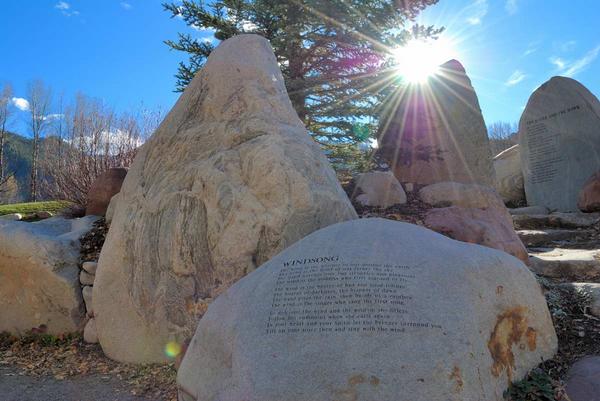 Over the years Ed Trumble has assembled what is likely one of the finest collections of western art in America. His collection is housed in the Leanin' Tree Museum and Sculpture Garden of Western Art in Boulder, Colorado.
The free Leanin' Tree Art Museum is one of the best museum values in Colorado. The exhibits are truly amazing and represent many decades and styles of western American art. The museum contains over 250 paintings and 150 sculptures.
Hours:
Monday - Friday 8am to 5 pm.
Saturday, Sunday, Holidays 10am to 5pm.
Closed Easter, July 4, Christmas Day, New Years Day.
Location:
6055 Longbow Drive, Boulder Colorado, 80301.
Located near the free Celestial Seasonings Tour.
Check the Leanin' Tree Museum site for the latest info:
Liftopia Ski Discounts
One of the easiest ways to find Colorado ski discounts is to search Liftopia.com. They have a small number of discounted tickets available each day of the ski season at resorts all over Colorado. You purchase your tickets on Liftopia.com, then print your receipt and take the receipt to the ticket window to receive your tickets.
Best Time To Find Discounts
Typically weekdays and especially Tuesdays have the best discounts. Early season and late season have better discounts.
Colorado resorts offering substantial Liftopia ski discounts:
Arapahoe Basin.
Copper Mountain.
Durango.
Loveland.
Monarch Mountain.
Ski Cooper.
Sunlight.
Winter Park.
Some other resorts have discounts on Liftopia that really aren't discounts at all.
Check out Liftopia:
Rentals
If you need to pick up rentals on your way to the mountain, my favorite super cheap rental shop is Maison De Ski in Idaho Springs.
The Coors tour is one of Colorado's most famous free tours, and one of the top Colorado attractions. If you are in the Denver area, try to make the trip west to the Coors tour in downtown Golden.
After parking, you will be picked up by a small bus and taken on a short tour of downtown Golden. The driver will provide information about Golden and Coors along the way.
After exiting the bus, you go into the Coors tour center, where you will receive an audio device that you listen to as you follow the self-guided tour.
The Coors tour is very in depth, taking you through the history of Coors and the stages of brewing and packaging. You will see the huge brewing vats and other facilities critical to the process. The packaging area is one of the most dramatic aspects when it is in full operation.
In the middle of the Coors tour you enter a room which serves a small sample of the freshest beer you will likely ever taste, recently off of the production line. At the end of the tour you enter the bar area where you receive three free drinks of your choice! And don't worry, they have root beer and other drinks for the designated driver and the children.
The Coors tour is so popular that it can be very crowded with long wait times at the bus and bar. Consider attending earlier in the day or on a weekday.
When:
Winter Hours:
Thursday 10-4
Friday 10-4
Saturday 10-4
Sunday noon-4
Monday 10-4
Closed Tuesday, Wednesday and all major holidays.
Summer Hours (May 29 through Labor Day):
Monday - Saturday 10am - 4pm
Sunday 12noon - 4pm
Closed on all major holidays.
Specific Closure Dates:
April 20th.
May 26, 27, 28.
July 4th.
September 1, 2, 3.
November 28-29.
December 24-25.
December 31-January 1.
Where:
The Coors tour is located in the middle of downtown Golden. The gigantic concrete buildings are impossible to miss.
Parking for the tours is in a large lot at the intersection of 13th street and Ford Street. The line for the Coors tour bus forms near this intersection.
Information about the Coors tour from the MillerCoors site:
The New Belgium Brewery in Fort Collins has had to greatly modify their previously awesome tour and beer sampling system. They never said why they changed, but it was obvious what the problem was when I visited. Because of the free beer samples, the place was overrun with college kids who wanted to party hard for free.
Now to get a small free sample you must take the full brewery tour, and reservations fill up online weeks or months in advance. If you go there without being signed up for a tour, you can still buy beer at the bar for a discounted rate.
Despite the changes, this is still an excellent small brewery to see and learn about.
Location: 500 Linden Street in old town Fort Collins.
Liquid Center Hours:
Tuesday - Sunday 10am to 6pm
Closed on Sundays until Feb 9th, 2014.
Guided Tour Hours:
Tuesday - Sunday 11am to 4:30pm
Closed on Sundays until Feb 9th, 2014.

New Belgium Beer Web Site: