The free Colorado Mineral and Fossil Spring Show brings gem and fossil dealers from across the U.S. to the Denver area to showcase their huge selection of amazing finds.
Up to 85 Retail / Wholesale Gem, Mineral, Fossil, Jewelry Dealers From All Over The USA
When:
April 14-16, 2017
Location:
The Crowne Plaza Dia
15500 EAST 40TH AVENUE, DENVER, CO 80239
http://www.rockygems.com/colorado-mineral--fossil-spring-show-2017.html
On summer Thursdays and Fridays the laid back atmosphere of Snowmass Colorado comes alive with their free Snowmass Village Summer Concerts. The music, set up on a Snowmass ski run stage near the upper village, is loud and wild.
When:
Summer Thursdays (and sometimes Fridays) from 6:15 to 8:30pm.
Where:
Snowmass upper village.
Schedule:
The 2013 Snowmass Village Free Summer Concert schedule is as follows:

June 20: Freddy Jones
June 27: The Dunwells
Friday July 5: CJ Chenier
July 11: The Revivalists
July 18: Mountain Standard Time
July 25: J.Boog
August 1: Tab Benoit
August 8: Nigel Hall
August 15: Robert Walters

More Info from the Aspen Snowmass web site:
The downtown Louisville Street Faire in Louisville, Colorado brings great music to the Front Range every summer Friday from mid-June to mid-August. This fair's last performance of the year is usually the biggest with internationally known headliners.
In addition to the concert, the fair features excellent food and drink vendors, and children's activities such as arts and crafts.
When:
Summer Fridays from 5 to 10pm.
Music is typically 6:30 - 9.
Where:
Downtown Main Street in Louisville.
Schedule:
The 2013 Louisville Street Faire schedule is as follows:

June 14: CJ Chenier
June 21: Young Dubliners
June 28: Richie Furay
July 12: BoDeans
July 19: The Samples
July 26: Samantha Fish
August 2: Tab Benoit
August 9: Fireball
August 16: Dickey Betts and Great Southern (CANCELLED DUE TO ILLNESS)
I was really looking forward to seeing Dickey Betts again and hope he gets well soon and can come back to Colorado.
Chris Daniels and Freddi will be stepping in at the last minute for this concert.
More Info from the downtown Louisville web site:
Mountain Fest. It's as fun as it sounds.

Enjoy an afternoon of mountain-centric activities and discover all the exciting benefits of Colorado Mountain Club membership from noon to 4pm Saturday, March 25. This FREE event will be held at the American Mountaineering Center, 710 10th Street in Golden, Colorado. The festivities will kick off at noon featuring your 1st drink free from Upslope Brewing Company and Stem Ciders. Mountain Fest is the perfect way to get motivated and learn new skills and for spring and summer mountain adventures. This year's event will feature, outdoor skills clinics, tours and a Beacon clinic in the American Mountaineering Museum, gear demos, open climbing , and CMC membership deals.

The highlight of the afternoon will be an expo featuring the CMC's schools and courses: Wilderness Trekking School (WTS), Basic Mountaineering School (BMS), Fly Fishing School, Advanced Crevasse Rescue, Alpine Scrambling School, Intro to Hiking Safety, and Backpacking School. Volunteers will be on hand to give personal accounts about participating in CMC's educational activities. Expo booths will also showcase CMC's programs and initiatives: CMC's Adventure Travel Program, Conservation, Youth Education Program (YEP), CMC Press, Denver Trails and how to get started Volunteering in the CMC. The membership booth will feature membership deals.

Free presentations and clinics will include: How to Properly Fit and Purchase Footwear by Adidas- Mountain Fest lead sponsor; Compass demo and clinic presented by Brunton- Mountain Fest sponsor; Climbing the 14ers; Rock Self Rescue; Avalanche Education; Wilderness First Aid; Ten Outdoor Essentials and Mountain Safety; Know Before You Go Avalanche Education; and a Highlight of the CMC's Adventure Travel Trips from all over the world!

For a full schedule, please visit the CMC website at www.cmc.org/mountainfest

Don't miss this opportunity to experience the CMC for yourself or introduce friends and family to all the adventure the Club has to offer.
Colorado puts on quite a celebration for Independence day, with a large number of fireworks shows across the state. There are events of all sizes in 2017. Here we list some of the larger shows both in the Denver metro area as well as across the state.
The beautiful Morrison Nature Center is a free park in Aurora, Colorado that is definitely worth checking out when you are in the area.
Western Welcome Week is a festival in Littleton Colorado that celebrates our western tradition of community cooperation. This is the premier event in the Denver area for clubs, charities, and other non-profit organizations. Instead of the typical endless line of vendor booths, you will find tents set up to gain your interest and participation in various non-profit organizations. Finding a new hobby or charitable cause to get involved with is one of the rewarding things to do at Western Welcome Week.
Deprecated
: Methods with the same name as their class will not be constructors in a future version of PHP; Zebra_Image has a deprecated constructor in
/home/ec2-user/www/public_html/freeindenver/components/com_jem/classes/Zebra_Image.php
on line
46
For about 6 weeks each year in January and February, Ruby Hill Park in Denver features a free ski and snowboard park known as Ruby Hill Rail Yard.
If you're looking for free things to do in Aspen, Colorado, good luck! Just kidding...
It turns out that Aspen has a free art museum and hiking / biking trail system that are both amazing Aspen attractions.
The museum is always free, but check their web site to see what is currently on display. If you want a more scenic experience, you can get to the museum by walking or biking the trail that goes through the neighborhoods and begins behind the visitor center at Rio Grande Ball Fields. If you walk the trail, make sure you visit the free and amazingly beautiful John Denver Sanctuary!
Location:
590 North Mill Street
Aspen, CO 81611 Map and Schedule
Aspen Art Museum Web Site and Schedule: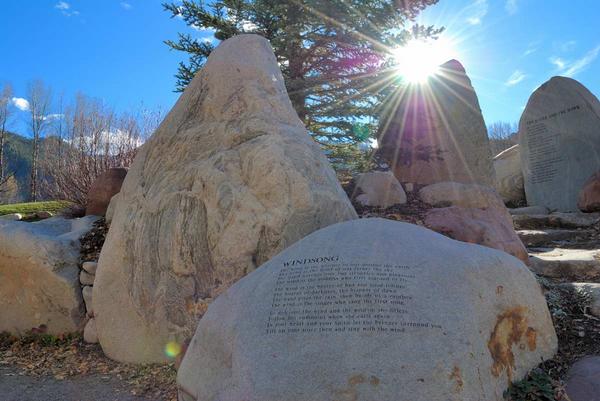 The United States Air Force Academy at Colorado Springs has a unique visitor center and chapel area that is free and open to the public. Visitors can learn a wealth of information about the academy and it's history as well as view the planes on display. The Chapel is absolutely beautiful and due to it's unique architecture it's probably the most photographed building in all of Colorado.
Happy hour at the Irish Snug just south of Denver offers cheap, quality food and more than affordable drinks. Their happy hour menu is offered every day from 3-7 and 10-12. A diner will encounter traditional Irish fare, such as corned beef sliders and sangers. If you don't like Irish food, don't worry. The Irish Snug also offers burgers, tex mex and sophisticated American bar food.
Half Fast Subs in Boulder has one of the largest menu choices I've ever seen at a restaurant. The hardest thing to do at this place it to make a decision between the hot subs, cold subs, veggie subs and even salads. Whatever you chose, you won't be disappointed.

Art tours are always popular in Colorado, with several art centers located throughout the state. One of the main art districts on the front range is Prospect New Town in Longmont. The Prospect Artists in Longmont, Colorado open their studios each year for the last weekend of June. You will have the opportunity to view each artists' latest work and see the interior of each member's home or store front in this architecturally unique community. This is a special community of artists with unique expressions to match the unique architecture where they live and work.
2012 Schedule:
Saturday June 30 and Sunday July 1, 2012.
12 noon to 6 pm each day.
Where:
Prospect New Town.
Near Pike Road and North 107th Street
Longmont, Colorado, 80504.
Look for the green studio tour signs in front of the studio locations.
A map of the tour is available at www.prospectartistsassn.com.
For the latest details check the Prospect Artists Association web site:
This free nature center on top of Lookout Mountain in Golden is one of the top things to do in Colorado with the kids.