Garden of the Gods in Colorado Springs is probably the most beautiful small park in the state. Paved trails make it easy to wander around and check out the amazing cliffs and spires. Picnic areas, paved and unpaved hiking trails, horseback riding, a trading post, and a visitor's center with amazing views; Garden of the Gods is a great place to spend a day.
On summer Thursdays and Fridays the laid back atmosphere of Snowmass Colorado comes alive with their free Snowmass Village Summer Concerts. The music, set up on a Snowmass ski run stage near the upper village, is loud and wild.
When:
Summer Thursdays (and sometimes Fridays) from 6:15 to 8:30pm.
Where:
Snowmass upper village.
Schedule:
The 2013 Snowmass Village Free Summer Concert schedule is as follows:

June 20: Freddy Jones
June 27: The Dunwells
Friday July 5: CJ Chenier
July 11: The Revivalists
July 18: Mountain Standard Time
July 25: J.Boog
August 1: Tab Benoit
August 8: Nigel Hall
August 15: Robert Walters

More Info from the Aspen Snowmass web site:
Western Welcome Week is a festival in Littleton Colorado that celebrates our western tradition of community cooperation. This is the premier event in the Denver area for clubs, charities, and other non-profit organizations. Instead of the typical endless line of vendor booths, you will find tents set up to gain your interest and participation in various non-profit organizations. Finding a new hobby or charitable cause to get involved with is one of the rewarding things to do at Western Welcome Week.
The free Sunnyside Music Festival is a showcase of Colorado talent that takes place each year in Denver's Sunnyside neighborhood.
The Evergreen Chamber Orchestra will have a free performance on Saturday Feb. 2, 2013, 7pm at Evergreen High School. Talented students from area schools will participate with the Evergreen Orchestra in this free concert.
The Evergreen Chamber Orchestra Web Site:
http://www.evergreenchamberorch.org/
Each year over Labor Day Weekend, Copper Mountain Ski Resort hosts the free Copper Country festival, with two full days of country, blues, and folk music from top name performers.
The Pueblo Chile & Frijoles Festival in Southeast Colorado is guaranteed to burn your eyes with fun! Besides being overcome with tears in the chili roasting area, you will find a diverse selection of music and dance performances as well as local vendors.
Deprecated
: Methods with the same name as their class will not be constructors in a future version of PHP; Zebra_Image has a deprecated constructor in
/home/ec2-user/www/public_html/freeindenver/components/com_jem/classes/Zebra_Image.php
on line
46
If you're looking for free things to do in Aspen, Colorado, good luck! Just kidding...
It turns out that Aspen has a free art museum and hiking / biking trail system that are both amazing Aspen attractions.
The museum is always free, but check their web site to see what is currently on display. If you want a more scenic experience, you can get to the museum by walking or biking the trail that goes through the neighborhoods and begins behind the visitor center at Rio Grande Ball Fields. If you walk the trail, make sure you visit the free and amazingly beautiful John Denver Sanctuary!
Location:
590 North Mill Street
Aspen, CO 81611 Map and Schedule
Aspen Art Museum Web Site and Schedule: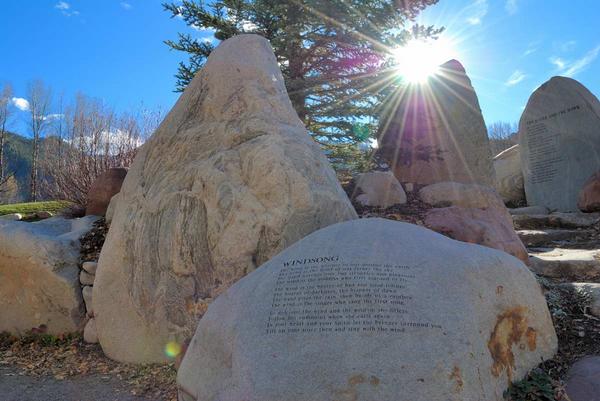 The National Center for Atmospheric Research (NCAR) has created a beautiful nature preserve on their property on Table Mesa Drive in Boulder, at the base of the Flatirons.

Howelsen Hill Ski Area is a historic ski area and Olympic training grounds operated by the city of Steamboat Springs, and is one of the only ski areas left in Colorado that is affordable on a daily basis. This ski area is a decent place for downhill skiers and snowboarders to make some quick laps, and features a nice terrain park, but it is especially nice for Cross Country / Nordic skiers.
There are only a handful of downhill runs served by 1 rope tow and 1 chair lift, but there are miles of Nordic trails. Howelson is lit for night skiing and often stays open until 8pm.
Oh yeah, the huge ski jumps are off limits to the public but they are an amazing sight!
2012 - 2013 Rates:
Lift Tickets: $20 per adult, discounts for children and seniors.
Terrain Park Only: $10
Nordic Trails Only: $10
Children's Magic carpet learning area: Free! (see concession booth for a free ticket).
$10 night skiing tickets are also available Tuesday through Friday.
Full lift ticket pricing breakdown for 2012-2013:
Hours and Season:
CLOSED MONDAYS.
Tuesday 1:00 pm – 6:00 pm

Wednesday 1:00 pm - 8:00pm

Thursday 3:45 pm - 8:00pm

Friday 10:00 am - 6:00 pm

Saturday and Sunday 10:00 am – 4:00 pm

Closed on Christmas Day and special holiday hours are in effect through Jan 3.
Howelson Hill Home Page and Maps:
Steamboat is fairly remote for a day trip, but if you can't afford the lodging in the area, there is a year-round campground that is reasonable called Steamboat Campground.
The free Underhill Museum is a small but quaint depiction of early life in downtown Idaho Springs, with several rooms set up to display a typical home setting in the early 1900's. The kitchen in particular is very elaborate, and during better weather the Victorian Garden is open to the public. In addition, there is an old vault, antique cash register, and many photos of Idaho Springs through the years. 

This free museum earns revenue for the History Society of Idaho Springs with a bookstore located at the entrance. They have an excellent selection of Colorado books as well as a large used book inventory.

This is a nice free historical museum to visit while browsing the shops in downtown Idaho Springs. I'm no fan of tourist trap shops that are full of cheap imported junk, like many of the shops in more popular Colorado tourist destinations. The shops in Idaho Springs are not like that. Many feature locally made artisan works for reasonable prices.
Fall and Winter hours 2011-2012:
Saturday, Sunday, and Monday 11am to 5pm.

Location:
The Underhill Museum is at the western end of the strip in downtown Idaho Springs on Miner Street. Look for the sign that says "Books".

While you're in the area check out the Visitor Center and Heritage Museum at 2060 Miner Street.
Historic Idaho Springs site: 
Hammond's Candies in Denver has been producing high quality hard candy and chocolates since 1920. The Hammonds Candy Tour shows you the process of creating and packaging Hammonds candy. After you enter the tour center and receive your tour sticker, free Hammonds candy samples are provided and you can take a hat if you like as well. You can browse the OOPS! room where Hammonds candy mistakes can be purchased for low prices.
The tour begins by watching a short movie describing the Hammond's Candies company, it's history, and the candy making process. You then enter the production viewing area where you watch the workers create candy from start to finish. You then move to the packaging area and finish with another free sample to take home before you enter the store and gift shop.
Hammonds Candy Tour Hours:
Monday - Friday 9am - 3pm
Saturday: 10am - 3pm
Closed Sunday.
Where:
5735 N. Washington Street, Denver, Colorado.
58th Street between Washington Street and I-25.

For more information visit the
Hammonds candy tour site:
Art tours are a popular thing to do in Colorado, and Longmont is one of the top art districts. Discover Longmont's finest artists by taking the Longmont Studio Tour.
McLoughlin's is one of my go-to places when I'm craving happy hour specials in downtown Denver.