One of the best ways to experience Denver's rich Hispanic heritage is to visit the annual free Denver Cinco De Mayo Festival, one of the best things to do in Denver on a May weekend.
The downtown Louisville Street Faire in Louisville, Colorado brings great music to the Front Range every summer Friday from mid-June to mid-August. This fair's last performance of the year is usually the biggest with internationally known headliners.
In addition to the concert, the fair features excellent food and drink vendors, and children's activities such as arts and crafts.
When:
Summer Fridays from 5 to 10pm.
Music is typically 6:30 - 9.
Where:
Downtown Main Street in Louisville.
Schedule:
The 2013 Louisville Street Faire schedule is as follows:

June 14: CJ Chenier
June 21: Young Dubliners
June 28: Richie Furay
July 12: BoDeans
July 19: The Samples
July 26: Samantha Fish
August 2: Tab Benoit
August 9: Fireball
August 16: Dickey Betts and Great Southern (CANCELLED DUE TO ILLNESS)
I was really looking forward to seeing Dickey Betts again and hope he gets well soon and can come back to Colorado.
Chris Daniels and Freddi will be stepping in at the last minute for this concert.
More Info from the downtown Louisville web site:
Two Ponds is a very small National Wildlife Refuge which was created as a place for migrating birds to stop and rest.
The Evergreen Chamber Orchestra will have a free performance on Saturday Feb. 2, 2013, 7pm at Evergreen High School. Talented students from area schools will participate with the Evergreen Orchestra in this free concert.
The Evergreen Chamber Orchestra Web Site:
http://www.evergreenchamberorch.org/
On the first weekend of June each year, Colorado waives fishing license requirements. This is a great chance to grab your gear out of storage and take the family to a nearby lake or stream for some serious trout fishing! 
This park in Morrison, Colorado (southwest of Golden) is really an outdoor museum, where you can hike or ride a shuttle as you examine evidence of Dinosaur activity in Colorado. One of the popular Colorado attractions for kids.
Western Welcome Week is a festival in Littleton Colorado that celebrates our western tradition of community cooperation. This is the premier event in the Denver area for clubs, charities, and other non-profit organizations. Instead of the typical endless line of vendor booths, you will find tents set up to gain your interest and participation in various non-profit organizations. Finding a new hobby or charitable cause to get involved with is one of the rewarding things to do at Western Welcome Week.
The Denver Zoo free days are by far the most popular Denver free days for families with kids, and are typically held during the fall and winter.
Art tours are a popular thing to do in Colorado, and Longmont is one of the top art districts. Discover Longmont's finest artists by taking the Longmont Studio Tour.
If you're looking for free things to do in Aspen, Colorado, good luck! Just kidding...
It turns out that Aspen has a free art museum and hiking / biking trail system that are both amazing Aspen attractions.
The museum is always free, but check their web site to see what is currently on display. If you want a more scenic experience, you can get to the museum by walking or biking the trail that goes through the neighborhoods and begins behind the visitor center at Rio Grande Ball Fields. If you walk the trail, make sure you visit the free and amazingly beautiful John Denver Sanctuary!
Location:
590 North Mill Street
Aspen, CO 81611 Map and Schedule
Aspen Art Museum Web Site and Schedule: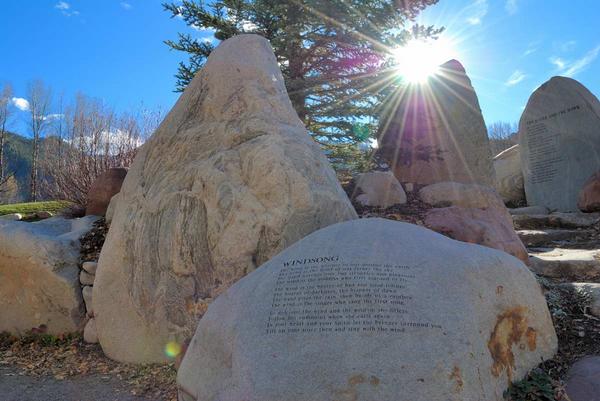 The Poudre Landmarks Foundation has some of the best Fort Collins attractions for history buffs. Their historic Avery House in Fort Collins offers free tours on Saturdays and Sundays from 1pm to 4pm. The tour guides provide a wealth of information about the city's early days, and what life was like in the front range in the late 1800's. This is one of the great historical things to do in Colorado, as Fort Collins has a rich and colorful early history in the settling of Colorado.
When:
Year-round Saturday and Sunday
1pm to 4pm
For 2014, the Poudre Landmarks web site is incomplete and it is unknown whether Avery House tours are still taking place. Hopefully they will release an updated schedule soon. Call them to check on the latest situation: 970-221-0533
Where:
328 West Mountain Avenue
Fort Collins, CO 80524
Avery House Web Site:
For the 2019 ski season, Loveland Ski Area and 95.7 The Party FM are offering $25 lift tickets on the second Thursday of each winter month.
They also offer a 2 for 1 ticket for the following week if you can't attend on Thursday. To get the $25 price, or the 2 for 1, you have to go to the "95.7 The Party" web site and sign up as a "Party VIP", then print the coupon.
When:
Thursday, February 14th, 2019
Thursday, March 14th, 2019

Where:
Loveland Ski Area is located off of I-70 just before Eisenhower Tunnel. Take the Route 6 exit (Exit 216) and you can't miss the ski area. Loveland is broken up into 2 distinct areas with a shuttle bus that runs between them. Loveland Valley (left off the exit) is considered the learning and training area and Loveland Basin (right off the exit) is the main ski area. A shuttle bus runs between both.
Denver Mint Tours are closed for construction through February 27, 2014.
If you ever wanted to know where that change in your pocket comes from, the free Denver Mint Tours are the place to find out! Tours are free of charge Monday through Thursday at the United States Mint in downtown Denver. Reservations must be made in advance through the United States Mint Tour Reservation System
The Denver Mint building is highly secure, so you will need to pass through a security screening before your tour begins. Many common items are not permitted on the tour, such as purses, check their web site for a detailed list of prohibited items. The tour itself is very informative and interesting, discussing not only how new coins are made but also America's coin making history.
When:
Year-round, Monday - Thursday.
Reservations are required.
Be at the tour entrance 30 minutes prior to your tour time.
Location:
320 West Colfax Avenue
It's just off the southern end of the 16th Street Mall near Civic Center Park.
Visit their web site for tour details and reservations:
The Colorado State Capital is one of the popular Denver Attractions, not only for the well known '5280 step' but also for the free tours inside.
Why take a Colorado State Capitol tour? I'll give you three reasons:
The Colorado State Capital building in downtown Denver allows you to watch our state Legislature in action. As more people take an interest in the workings of our government, this is a great opportunity to see firsthand how the system works. The Colorado State Legislature is in session from early January to early May.
The capitol building itself is awash in history and amazing architecture. It was built using Colorado materials as much as possible, such as Colorado gold for the dome, granite walls from Granite, Colorado, and Colorado's distinctive red onyx throughout the interior.
The views from the Dome tour are some of the best in Denver!

Location:
Just head for downtown Denver and the 16th Street Mall, you can't miss the gold domed building beyond the southern end of 16th street mall. The steps on the western side are the most popular area to enter as the "1 mile above sea level" markers are there. The civic center park area has become very sketchy, expect to encounter quite a few homeless if you walk through the park.
Visitors to the state capitol are allowed to wander the public areas on their own, or you can take one of several guided tours:

Historical Tours:
All about construction of the building and early Colorado history, as well as some of the more interesting artifacts on display within the building. Reservations are not required unless you have a group of 10 or more. Tours are 45 minutes long and are available weekdays except holidays.
Historical Tour Hours:
10am - 3pm every Monday - Friday
Legislative Tours:
Legislative tours are a popular field trip for Colorado grade school students. When possible, you will make stops in the House and Senate galleries to see the legislature in action. This tour is only for school groups and reservations are required.
Legislative Tour Schedule:
Annually, early January through early May. Reservations are required.

Dome Tours (currently closed):
This tour climbs a long spiral staircase to an indoor observation area with amazing views of Denver.
Dome Tour Hours:
Daily from 9am to 2:30pm. Reservations are required.
Dome tours are currently closed until further notice due to dome renovations.
Mr. Brown's Attic:
This exhibit area illustrates Colorado's history and the legislative process, and includes a hands-on children's area. The attic is open 9am to 3pm on weekdays and reservations are not necessary.
For more information about Colorado State Capitol Tours, visit the Colorado Legislative Council Site: